Lord Mayor Celebrations – Parade
Lord Mayor Celebrations – Parade
Hello!
These are the photos I took at the parade last Saturday…
A little girl waiting for the parade to start, and the pipers opening the parade.
This is the Norwich Samba Band… they are quite good (musically), and the dancers look great! But my reason for not liking them is obvious in the second photo… it looks like most of them were forced to play, such grumpy faces! Come on, smile!! 🙂
A girl from a Steeldrum Band and the Norwich Club of Mini Owners…
Blue blue blue…
A cute girl in one of the gymnastics club that were in the parade.
And some crazy people… The old man on the right was playing in a samba band!
Some more samba music and dancers… at least they know how to smile 🙂
Also notice the woman in the band who carries a sleeping child on her back…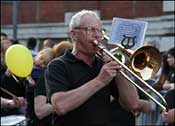 The weather was very nice and the light was so warm, I stayed around to take those photos of the castle!