Still alive!
Still alive!
Hello,
Sorry for the lack of updates… Time has been flying. I've been working a lot, I'm preparing for a conference. The conference is in Edinburgh in the first week of September. So far it's going well, I've made a lot of progress and hopefully I'll be able to prepare a good talk and poster.
Paul is working almost day and night on finishing his thesis so we haven't been on many adventures. My parents visited for a weekend, so I've been sightseeing with them instead 🙂 And last weekend we went to London to visit Paul's parents for the weekend, and we went to the Innocent Village Fete in Regent's Park.
I've got lots of photos to share, they keep piling up but I haven't had a chance to sort them out properly and post some here. So for now just some photos that I did edit/resize, they are taken in the garden of Paul's parents. Last weekend was apparently the Summer of 2007 😉 It was great weather and I really enjoyed sitting and eating out in the garden… I miss having one!! Priority nr one for our new place: a GARDEN (and nr 2: a shower, I'm fed up of always having to take baths, they are not as refreshing). Anyway, here are the photos:
The last one is actually taken by Paul, I really like it!
And as a last photo, this is my new car: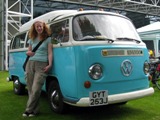 Hmmm…. I wish… keep dreaming!! I love those cars, I'd really like to have one. I've always been crazy about Volkswagens. First the Beetle and later on the campers. It would be so much fun to have one! Every now and then I go through a phase of seriously looking into buying one, but then always someone comes along talking me out of it (usually my dad). Yeah they break down a lot and I'm not exactly a car mechanic so having a 40 year old car is probably not the best idea. I still hope to own one one day 🙂
That's all for now, I'll try to post some more photos next week! Have a good weekend!
Hanneke