Autumn in Norwich
Autumn in Norwich
Hello!
It's November already, time is flying and I have lots of photos still to post here…
On the 18th of October we went to a ceildh in the city centre. It's a big dance evening with life folk music. It was a lot of fun! Here are some pictures of us dancing:
And here some photos of us not dancing ;):
Katja & Johannes, Veronika & Colin
Johannes & Veronika, Colin & Paul throwing his winning lottery ticket in his beer
Don't you love the wallpaper??? 🙂
Katja & Claudia, me & Veronika
The weekend of 21-22 October, my parents came to visit. They brought LOTS of Dutch food with them!! :)) It was like Christmas, lots of presents 🙂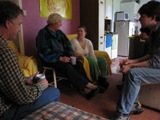 Everybody in the living room
On Sunday we organized a surprise for my dad's birthday, we took them to Wroxham where we hired a boat for three hours. The weather wasn't great, but it was mostly dry and it was really nice on the Broads! It took a while before we were used to the boat, but it's easy! Here are the pictures of that day:
It was a really nice tour, and we stopped halfway for lunch. We brought food and made our own lunch. It was quite busy on the river, lots of people with hired boats. There's some really nice houses on the water, I always enjoy watching those. After the trip, we walked around Wroxham for a bit, then drove back to Norwich.
My dad took this crazy picture of us in the garden centre where there was a big Christmas show…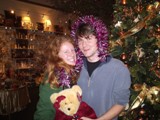 My dad wanted to watch the last Formula 1/Grand Prix, he watched it at Paul's place while we made them dinner. It was a nice weekend!
Last weekend was busy… On Friday afternoon we packed allllll my stuff (how did I get this much stuff??) and I moved in with Paul!! He has a really nice flat, very close to UEA as well. We spent all day Saturday unpacking everything, I was very tired afterwards but it was great to have it done (and not wait for weeeeeks to unpack the last boxes, as I did last time). Here's a photo of me in the kitchen with some of the boxes: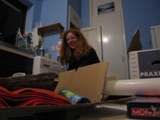 I'll try to take some more photos of the flat soon 🙂 It was fun filling the bookshelves, we have a huge collection of travel books 🙂
On Sunday we went cycling around Norwich. It was really nice! But there are so many hills around here, Paul calls it flat, well it's NOT!! 🙂 We stopped in one of the tiny villages on the way for lunch, here are some photos:
This week flew by as well. I have had my medical for going to Antarctica, fortunately the doctor couldn't find anything wrong with me. Next week I need to get my blood tested and I have an appointment at the travel clinic for vaccinations. I have never seen the inside of a medical centre so often as those weeks!! Tomorrow I'm going to Cambridge for a conference to prepare for the cruise.
And on Saturday there is Sparks in the Park, the fireworks show for Bonfire Night here at UEA! I'm really looking forward to it, I like fireworks a lot and the show last year was really good. I'm taking my camera of course, I'll try to post some photos next week!
Take care,
Hanneke