Here are some photos of beaches I went to recently…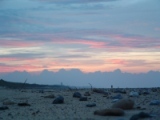 These are taken in Sea Palling. This is a beach where they have some kind of piers parallel to the coast, for protection (against erosion I suppose, a big problem on the Norfolk coast). You can reach some of them, and climb on the rocks – though that is very dangerous… they love warning signs here!!
Last weekend we went to Winterton-On-Sea. This is close to Great Yarmouth, so quick to reach from Norwich. Very nice beach! The tide was very low so the beach was big. We had fun playing with Pauls kite 🙂 Here are some photos: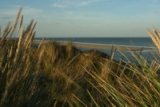 All is going well here in Norwich! I moved to a new office last week. It looks ugly from the outside (it's a container building!) but quite nice on the inside. The only thing I don't like is that it's quite far from everything on campus.
Other than that, have a lot of trips planned for the near future 🙂 I'm going to the Netherlands with Paul for 5 days in November. Should be fun! I won't be home for Christmas or New Year… we booked a trip to my favourite country in the world, Switzerland!! We are going skiing in Zermatt for a week, then spend some days travelling, and then we'll go to Celia's New Year party. We fly back to London on the first of January. I'm really looking forward to this trip :)))
And I'm also busy preparing the trip that Patama and I will do in South America. After the cruise in Antarctica, we will be in the Falkland Islands for 5 days, then we'll probably spend a week in Patagonia (Torres del Paine), some days in Santiago and Lima, then the Inca Trail for 4 days before we fly back to the UK. Very exciting!
And yeah, in between all of that I still have to try and concentrate on work… hmm 🙂
Ok this is the end of my enormous update, in case you haven't noticed, I have uploaded three entries at the same time, so keep scrolling down!! 🙂