Sinterklaas in the Netherlands
Sinterklaas in the Netherlands
Hello!
I went to the Netherlands with Paul for 5 days (9-13 Nov) for Sinterklaas. Sinterklaas is supposed to be on the 5th of December, but because we didn't have time to come in December, my parents decided to celebrate it on the 12th of November instead 🙂
For Sinterklaas, we make 'surprises' (something you make to wrap your present in, usually something funny) and write poems for each other. We drew names over the internet in advance. I got my sister and Paul had Esther, my youngest brother's girlfriend. Slight problem that he had never met her, but well 😉
Anyway, more on that later!
We biked to the airport on Thursday morning, it took only 20 minutes! We flew with Flybe from Norwich to Amsterdam, it was a really nice flight with good views most of the time:
The Netherlands from above!
We had dinner with my parents and my sister, and at night we went to the late night shopping in Haarlem, to buy some final presents 🙂 (a 'rose' (pink) towel from the Hema is not really available in Norwich 😉 )
On Friday we went for a bike ride to the beach, through the dunes. The weather wasn't great but at least it wasn't raining – very windy though! We walked on the beach for a while, then enjoyed a hot chocolate and some cake at the restaurant there. On the way back, we found some Scottish Highlanders on the path. They are impressive, but a bit scary too – such big horns!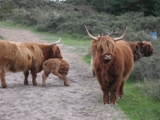 On Friday night we had a big family dinner, my mum had made pizza and we were 13 people around the table! On Saturday my parents took us for a ride to IJmuiden, we had to buy some things and they gave us a tour of the harbour and the sluices. We looked at a big ship coming through, but it was so windy and cold that we went back to the warm car fairly soon 🙂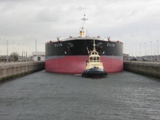 In the afternoon we started making our 'surprises'. I build a cardboard pyramid for my sister, who went to Egypt last Summer. Paul had a bit more ambitious project, he wanted to make a huge ball out of straws. My project was done really quickly, so I helped him. And we worked, and worked, and worked… Until we decided to go for dinner at a really nice Mexican restaurant in Haarlem, with an unpronounceable name – Popocatepetl. We came back, and worked and worked and worked.. till it was finally finished at 2 AM!!! And our fingers were damaged from all the wires. Here are some photos, the result made it worth all the effort!
On Sunday we slept till late – tired of all the work! We had rented inline skates on Saturday, and we wanted to try them. No matter the weather – we left in the pouring rain! Paul had never tried it before, or even ice skating, so he had to learn from the beginning. He learnt very quickly though and we went for a little tour. It was fun!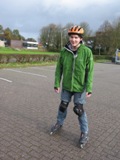 We came back just in time to write our poems. Everybody arrived, and we had a buffet dinner before starting the Sinterklaas evening. Here's a photo report of the evening!
Bart with the 'farmers-golf-club' that Esther made, and Paul&Esther;
Laura made 'Guust Flater' for my dad, it fits my brother too 😉
Robbert reading his poem and Paul unwrapping the new version of the Big Ben: combined with a Dutch windmill! 🙂 (made by Kaya)
My mum amused by her poem, and her 'surprise' made by Robbert: a map of the UK!
Opening it with everybody's help, and Paul with his new street sign: lunchbox road 🙂
Laura and her pyramid and the unwrapping of the giant ball!
The ball again, and Kaya reading her poem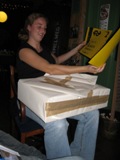 Two train tickets for Kaya 🙂
The evening was a big success and lots of fun! We got so many presents that we spent quite some time that evening reorganizing our bags for the flight home.
We left on Monday in the early afternoon, and had a quick flight back to Norwich. It was really nice to be back home for a couple of days, and to show Paul everything. Well, everything, there were many things we wanted to do and see, but we did not have time. It'll have to wait for the next trip!
I have a lot more photos to post here, I'll try to put them online this week. Stay tuned 🙂
Hanneke