Easter in the Netherlands & bike tour around Norwich
Easter in the Netherlands & bike tour around Norwich
Hello 🙂
Hope you all had a nice Easter break! Mine was very nice 🙂 It was great to spend a couple of days at home.
I left on Thursday, everything went fine, though the ferry was really really crowded, worse than at Christmas! Mostly football teams, rugby teams, scouting groups on their way to Easter tournaments I guess. I mostly had a very quiet weekend, I didn't feel like running around meeting people because I had been busy enough here in Norwich. So for once it was nice to just sit down and do NOTHING hehe 🙂
On Friday night I went for dinner at my sisters new apartment in Haarlem. It looks really nice!! Red and pink is not my favorite combination 😉 but I still really like her place.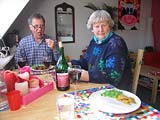 dinner!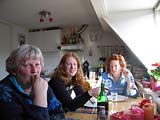 My mum, my sister and me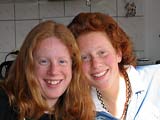 Laura and me… 🙂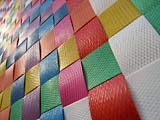 Instead of helping with the dishes, I was creative with my camera 😉 this was a placemat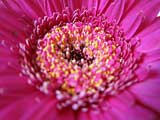 The macro function works quite well!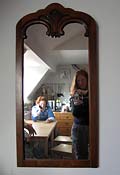 Nice mirror!
On Saturday I went to the beach in Scheveningen with Célia and Gert-Jan. The weather was a bit boring, grey and quite cold. But it was very nice to see them and we went for a long walk on the beach and in the dunes.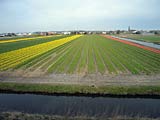 I took this photo from the train between Haarlem and Leiden, the tulips were not blooming yet!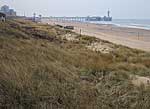 Scheveningen

Gert-Jan & Célia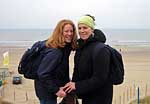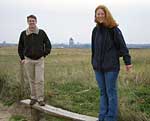 They are crazy 😉

Kürhaus at the boulevard
On Sunday we had a Easter brunch at our house with the whole family. 11 people at the table, very busy! Bart and Kaya even decided to hide eggs in the garden, you should have seen Paul, Esther, Laura and Robbert run outside to start searching, you would think they were like 7 years old 😉 hehe.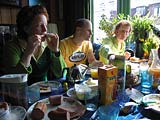 Laura, Robbert and Bart in matching outfits 😉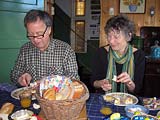 My dad and my aunt Els (his sister)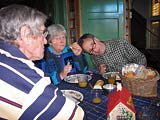 Joop, my mum and my dad – My dad is crazy and my mum *really* appreciates my efforts to take photos of family gatherings (if looks could kill 😉 )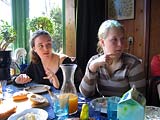 Kaya & Esther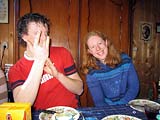 My cute little brother who loves to be in a picture with me :))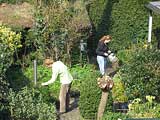 Bart and Kaya hiding eggs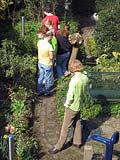 The children looking for eggs.. notice how Kaya is searching as well!!!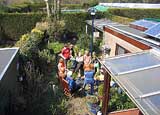 A full garden! Esthers family came to visit as well. My dad stole my camera to take this picture!
On Monday I didn't do much, mostly worked on my website… I have dreamweaver on my computer now and I'm working on a MAJOR update, I hope to finish it soon!
Tuesday morning I went shopping with my mum, to buy lots of thing to bring to Norwich 🙂 And then it was time to go back already. I had a good trip back, all went fine, this time the ferry was less crowded so a bit more comfortable.
Veronika came by at night, she left for Scotland the next day and I lent her my digital camera. That means I am finally forced to use my SLR again, boyyy that was a long time ago.
I went back to work on Wednesday, it's so quiet… The office is often empty. But that did help me to work a bit harder ;). And before I knew it, it was weekend again!
I spent Saturday buying food, doing laundry and cleaning the house, so exciting 😉 The weather was so nice though!! Very sunny and quite warm, I wore my sandals for the first time. My housemates had a BBQ, and I had Tanja, Patama and Nem over for dinner which was really nice.
On Sunday I went for a bike ride with Patama, unfortunately the weather changed to the usual overcast/grey/boring weather but at least it wasn't raining! We biked to Venta Icenorum at Caistor St Edmund, not very far south of Norwich. This used to be a big roman town surrounded by city walls. All that remains now are the city walls, but you can walk around and they have some information about how it used to look. Plus there were lots of sheep with lambs so that was nice 🙂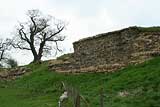 This was the most impressive part of the wall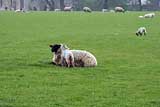 Lots of sheep!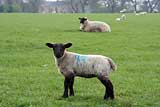 This one was very curious 🙂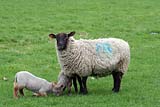 The lambs have red legs! And though they have a huge field, they need to eat from the same place 😉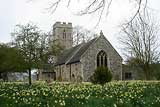 We found this nice church surrounded by daffodils in a very small village!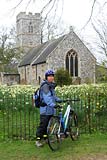 Patama and her brand new bike!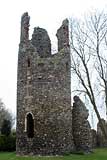 There was a ruin of an old church on the other side of the street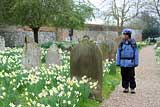 Patama reading one of the very old gravestones
We stopped at a tavern for some tea/hot chocolate and very nice cheese cake. We were following a cycle route that Patama got at the tourist information, but we didn't like how it often used busy roads so in the end we made our own route taking little country roads. They are very nice! Really narrow, and we saw lots of flowers and birds and cute little houses. We even saw fields and fields of daffodils, felt like home 😉 Too bad they were already wilting.
The last part of the trip was very scenic, on a road with warning signs for deep tanks and rottweilers and passing the Norwich water treatment facility, what a horrible smell!!
Now I am just relaxing, next week will be a busy one. Then on Saturday my parents are coming to visit! Should be nice, I hope the weather will be good so we can go to the coast on Monday (the 1st of May is a bank holiday here).
Other news… I decided to go to Switzerland for 2 weeks at the end of June. I am really looking forward to that! And this time I am not going to look up all train time tables in advance and book all the youth hostels 😉 I found out last year that it's not really necessary and it will be fun to have some freedom. I will also visit Célia for a weekend!
That's all for now!
Hanneke