Holkham Beach
Holkham Beach
Hello!
We went to the beach last Wednesday after work. Great news: I got into a car share!! Colin got a car and asked me if I wanted to split the insurance costs and share the car. Of course :)) So that's very exciting!! For now, I am not on the insurance yet so I am not allowed to drive it, but that should be fixed in a couple of weeks. Anyway, we took the car and went to the beach…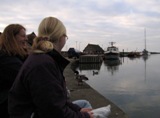 Eating chips in Wells-next-the-sea, a cute village on the north Norfolk coast. The ducks wanted chips as well!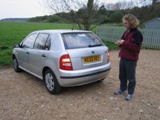 The car!! And guess what, it's an automatic, and I don't care how girly I am, but I really like that!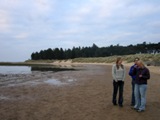 Tanja, Nicole and Veronika at the beach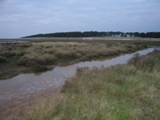 On our way to the sea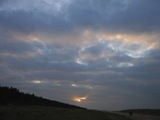 Too bad it was cloudy, but the sun came out every now and then!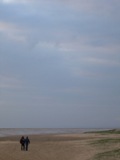 Colin & Nicole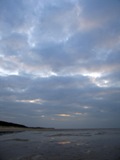 Loved the skies and the reflection in the water!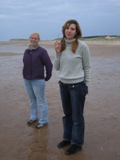 Tanja eating her glasses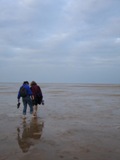 For the last part, we had to take off our socks&shoes;, and wade through the water, it was quite cold!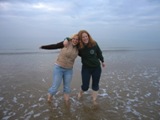 Proof that we almost went swimming :))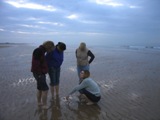 Tanja giving a lecture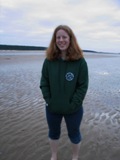 Me being happy 🙂
It was a great trip, when we walked back to the car it was dark already. It will be so much fun to have a car and be able to go on trips every now and then.
My parents are coming to Norwich tomorrow, till Monday probably. Should be fun! Then next week is filled with courses, I start the Teaching Skills course and I also have the second part of the Further Unix course. Fun fun fun 😉 And then in the weekend I am going to Stratford-upon-Avon with Veronika, to be a REAL tourist there hehe.
Have a good weekend!
Hanneke