Haircut, History lessons, new House and going Home!
Haircut, History lessons, new House and going Home!
Hello!
Just wanted to post an update before I am going home tomorrow early in the morning. I will be in the Netherlands till Tuesday!! I am looking forward to it, happy to take the ferry again and I am sure it will be nice to be home for a while. I will also meet Celia and Gert-Jan on Saturday to go to the beach in Scheveningen, should be fun!
Last week flew by, I've been quite busy. I went to see Ice Age 2 in the cinema with Nazir (from Afghanistan), really loved the movie!! Now I have to see the first one 🙂
On Fridaynight I went to Nicoles place. She cut my hair!! I haven't been to a hairdresser for like 16 months so it was about time.. even though I didn't really want to. I think it's too short, but it will grow back so I'll just be patient 😉 When she was done, she asked me to cut her hair as well.. scary, I had never done that! But Nicoles hair is thin and straight so quite easy. Here are some photos: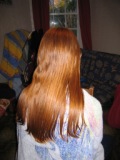 Before!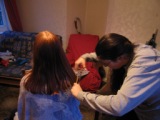 And after 🙂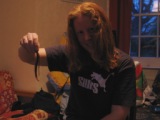 That's how much I lost…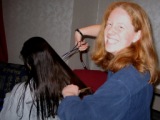 I was threatening to cut off a LOT hehe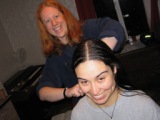 Having fun 🙂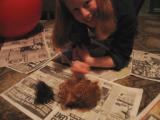 See the difference, and the length that we cut off was about the same!!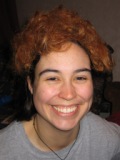 Nicole as a redhead 🙂
More photos can be found here
In the mean time, Niko (her housemate) had prepared a typical Finish meal, which was really good!!
On Saturday I didn't do much, but I did take this photo on campus: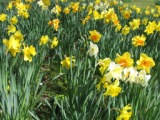 Spring time!!
On Sunday I met with Nicole, Veronika and Patama. We visited Origins. This is a museum about the history of Norwich and Norfolk. It's really nice! All interactive, lots of computer games to play and things to do, like learning the Norfolk dialect and listening to legends from around here. It was amazing to find out how big the Dutch influence has been here, actually there are lots of Dutch words in the Norfolk dialect. At some point 1/3 of Norwich was Dutch!! They called the Dutch immigrants Strangers… nice to know 😉 Here are some photos taken there: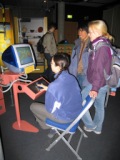 Playing a computer game 🙂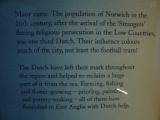 READ THIS!!!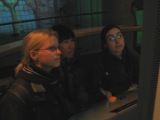 Serious students!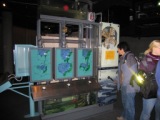 Oceanographer at work 😉
We spent a couple of hours there, then went to the unlimited Pizza Hut buffet for lunch.
Nicole = crazy
Veronika came for dinner at night, but we were both still so full that we just ate dessert and we watched the movie The Story of the Weeping Camel Very nice!!
On Sunday, I also went to visit a house with Patama. Last week we decided to look for a house together, also for Celia. We visited one house last Thursday, it was really nice and we could have had it, but the landlord wanted full rent for July and August and Celia and Patama won't be able to move until September. The house we looked at on Sunday is also from July, but he lets us have it for half rent for July and August. Perfect! It is a great house, really beautiful. It has 3 huge rooms, and one small one, a big open kitchen, (pink!) living room, and best of all: a conservatory!! It's really close to university (less than 5 minutes by bike, I am going to be lazy 🙂 )
So we decided to take it!! Yesterday we found a fourth housemate for the small room, her name is Jenni and she will move in July as well. The house also has a garden and even a glass house so we want to plant vegetables. I'm really looking forward to moving to this house!!
Here are some photos:
The kitchen, it even has a dishwasher!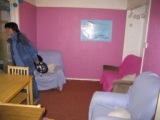 The lovely pink living room 🙂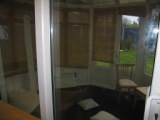 The best place, the conservatory… we plan to put lots of pillows there and make it a reading room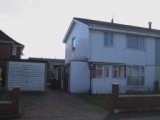 My new house!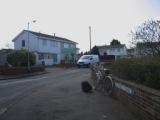 And the street 🙂
Other than that, the campus is deserted now since the undergrads are on their Easter break. For a MONTH, students here are so lazy 😉
Yesterday we played monopoly at Karla's and Veronika's place, it was good fun!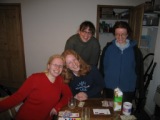 Veronika, Paola, Irina and me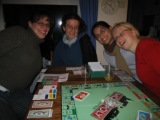 And one with Karla in it 🙂
Ok that's all! Today is not a very productive day at work but never mind. I'll try to do a bit more work and then I am going home to pack my bag, get some sleep since I have to wake up early tomorrow.
Happy Easter to everyone!!! (Easter = lots of chocolate :)) )
Hanneke