Winter Mountaineering Course in Aviemore
Winter Mountaineering Course in Aviemore
Hi all!
I came back from 5 days in Scotland last Tuesday night, had a great time! I'll write in English this time since I think there are some people interested in reading this blog who won't be happy if I write in Dutch 🙂
Thursday night we found someone to take over Nicole's non-refundable train ticket to Aviemore: Francis! He is the new student in our project, from Fiji, he arrived here on the 1st of January. He came with me to Aviemore but didn't attend the Winter Mountaineering Course.
Nicole helped me buying food for the trip (I bought way too much by the way) and packing my bag. I left with 25 kg of luggage!!
The trip to Aviemore was long, we left Norwich by train at 11:00 and we arrived in Aviemore at around 20:00. It's a nice way of seeing a bit of the UK, until it got dark around Edinburgh that is. The bunkhouse was easy to find and close to the railway station. I met some of the other participants of the course, and Howard, our instructor. We went to bed early, we would have an early start on Saturday morning.
At 8:00, the course started. Howard gave us an introduction and showed what he was carrying in his backpack, so that we could check that we had everything. Though I don't think SIX pairs of gloves is really necessary!! I didn't have a helmet or harness with me, but fortunately some people brought extra gear so that wasn't a problem. At 8:30 I ran to Mountain Spirit to get my boots, they were brand new but surprisingly comfortable. We were given ice axes and crampons, and then it was time to head to the mountains! Our group consisted of 6 people (plus the instructor). I had actually met one of the guys from Newcastle at the conference I went to in London, it's a small world! And I wasn't the only Dutch person in the group 🙂 My name was changed to Heineken for the weekend, apparently Hanneke is really difficult to remember/pronounce 😉
The weather was cloudy and when we arrived at the parking place at the end of Ski Road, it was snowing. It wasn't very cold though. We saw reindeers on the road!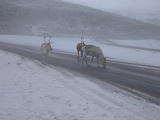 Reindeers on Ski Road
Howard explained us a bit about avalanche information and the importance of checking the weather forecast, and then we started hiking. For me, it was the first time hiking with a heavy backpack and it wasn't easy. I was the slowest one in the group so they often had to wait for me. It was a relief when Brent offered to carry my rope. After what seemed an eternity for me, we arrived at a slope where we were going to practice ice axe braking. First we had fun sliding down the slope, to make it more slippery. Then we learnt how to make walk on the slope, how to make steps with an ice axe and then it was time for action! We had to slide down the hill on our tummy and stop ourselves with the ice axe. Not too difficult. Then on our back, so you have to turn around before breaking, not that difficult either. But then we had to go head first!! And then head first ON OUR BACK. Quite scary!! It feels very unnatural to do that. But I did it, and it wasn't as scary as I thought it was, and I managed to break. We also had to throw ourselves and then stop. Lots of fun, though it left me with VERY bruised knees and even my hand was bruised. Here's a movie of Andy, Jess, Brent and Ian gliding down:
Around 15:30 we put on our crampons and walked down to the parking lot.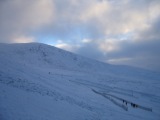 View while walking back to the parking lot.
We met the climbing group just before arriving, so that was perfect timing.
I met with Francis, who had 'climbed' the mountain the easy way: by funicular, and saw snow for the first time in his life. We bought pizza and had a nice dinner. At night we all went to the pub next door for a few drinks. I enjoyed talking to Thijs (the Dutch guy) who has been studying in Newcastle for quite a while.
Sunday morning we left at 8:30, the weather was looking very promising. We first had to do the same climb as yesterday, this time Ian took my rope (thanks!) because I was very slow again.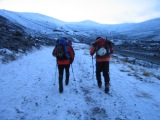 On our way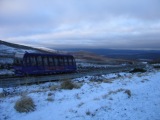 The easy way up 🙂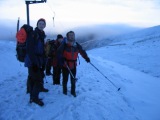 Howard explaining something about different kinds of snow (can you spot the Dutch guy? 😉 )
We went to a steep slope (35 degrees) where we practiced walking on crampons. It was a bit scary because it's so steep and you have to point your feet downhill, I was very afraid to fall. Howard was very patient with me and slowly I got more confidence. Andy got a chance to use the ice axe breaking technique when he fell and glided down the slope, but it didn't work… Fortunately he was able to stop himself, he was all right though I think it was a painful fall.
Eventually we climbed the slope with our backpacks to get to the top. I was so proud when I made it to the top, and it was definitely worth it: we looked out over a world of white mountains and a sea of clouds in all directions. Wonderful!! It was great to walk over the top in the sunshine, and we had a lunch break there.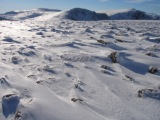 Yay, reached the top!!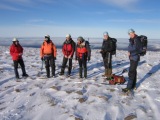 The group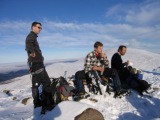 Ian, Thijs and Howard during our lunch break
Then it was time to go down again. The slope looked VERY steep but Howard told us it wasn't any steeper than what we had done before. He wanted to teach us how to belay and he wanted me to go down first while he belayed me. I was happy with it, it gave me the extra bit of confidence that I needed and I did fine. Also some nice people carved steps in the snow which made life a lot easier :).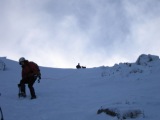 Jess coming down on the rope
It took a long time to get down to the bottom, and some parts were very icy so we had to be careful. At the bottom we took off the crampons, helmets and harness, what a relief! From there it was an easy 1 hour walk back to the parking lot.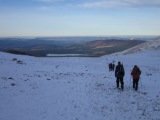 Walking back with a great view in front of us!
The path was very icy though and most of us slipped a couple of times. I fell twice, the first time gave me a nice big bruise on my leg. The second time I fell in a weird position and hurt my leg quite a bit. They helped me up and divided all my stuff over their backpack, they wouldn't let me carry anything, gave me two ski poles and this way I made it back to the parking lot. I felt quite stupid falling like that in the last hour of the course, on an easy path.
We had to wait for an hour in the parking lot for the climbing group, so we got quite cold. Thijs entertained all of us by doing a zombie dance 🙂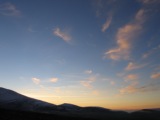 And I entertained myself by taking photos of the sunset 🙂
When we got back, most people were leaving. Francis and me were staying for another two nights, and they moved us to the disabled bunk room on the ground floor. Francis took the bunk bed, and I took the double bed for myself, what a luxury 🙂 We also had an enormous bath room.
On Monday we decided to take the bus to Inverness. We walked around there for a while, the weather was beautiful! There's not that much to see in Inverness though.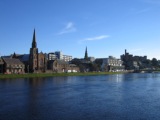 Inverness, the river is the Ness and they told us it's the shortest river in Europe, only about 6 miles. I never believe those things though, it's amazing how many waterfalls are the biggest in Europe for example 🙂
My leg was still hurting so I had to walk very slowly. We went on a trip to Loch Ness by minibus and boat. It was so beautiful, the bus driver was a bit annoying because he was constantly repeating the same things. On the way back he didn't tell us anything new. "All right folks, as I said before.." blabla.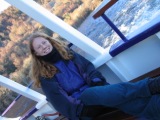 Put me on a ship and I'm happy 🙂
The cruise was beautiful, and we visited Urquhart Castle (or better: ruin) for an hour. Impressive!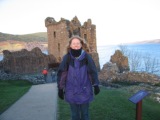 Me being a real tourist posing in front of the castle (and being cold at the same time!)
Me & Francis. The girl that took this photo also wanted a photo of me and her.. no idea what's so interesting about me, maybe she wants to pretend she has lots of friends!!
We watched the movie at the information centre and then we were picked up by the minibus that took us back to Inverness. From there we took the bus back and watched an amazing sunset.
Tuesday morning we had to wake up early to catch the 8:30 train to Edinburgh. The train trip was truly magical, it was clear and cold and all the trees were covered in thick white frost. It was like a fairy tale, so pretty… made me want to jump out of the train and go hiking! I managed to take some photos through the window: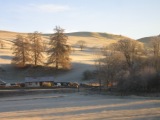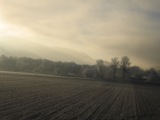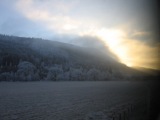 Unfortunately, Edinburgh was grey and cold! We walked up to the castle, but we got cold and hungry so we went to Pizza Hut and had an unlimited buffet, bad idea 😉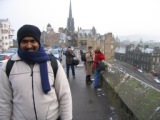 Francis being very cold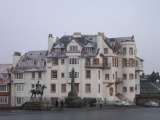 Nice house close to the castle
After that we just walked around for a bit, looked at some shops and then we took the 16:00 train to Peterborough, then to Ely and then finally at 22:30 we arrived in Norwich!
And now I have to get back to work. I felt like the last months I have been living from trip to trip and oh right, there is some work to be done in between. Now it's going to be a bit more quiet so that I can focus on what I came here for: my PhD 🙂
Till next time!
Hanneke