Time for an update!
Time for an update!
Hi all!
It's been more than three weeks so I thought it was about time for an update 🙂 An extra big one with lots of photos!
Let me see, what have I been up to? Nicole and me went for an "adventure travel" the weekend after my last update. We bought a day train ticket for this area, it's cheap and it gives unlimited travel. Unfortunately we didn't chose a good day for it. The weather wasn't great, but most of all: there was work on the tracks on ALL trains to the coast plus some other ones. Basically we could only get on the train to Cambridge. And so we went to Ely! Ely is not very big, but it has a HUGE cathedral, quite amazing. So we walked to the cathedral, looked around, walked along the river and then we walked back to the train station.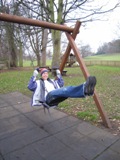 Yes we are so mature 😉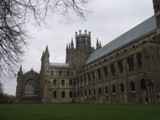 The cathedral, too big to fit in one picture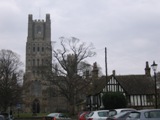 The cathedral and a nice house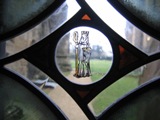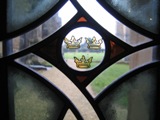 Nicole took those two pictures of the stained glass, I really like them!!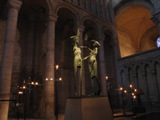 I really liked this statue, I was surprised to find something this modern in the cathedral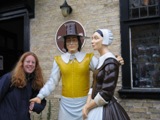 Me and euhm… some famous guy!! The tourist office was also his birth home and a museum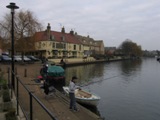 Along the river, on our way back to the train station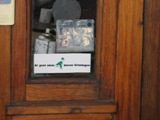 I found a Dutch house boat there! It was owned by English people, but still had a Dutch name and this sticker 🙂
We wanted to travel more, but we just missed a train and so we decided to get the train back to Norwich but get out at Wymondham (pronounced Windham, don't ask me why!). This is a very cute place. We walked over the graveyard before visiting the center of the town. It has a nice market place with a very old tower. We stayed for an hour, then we took the train back to Norwich where we went for dinner at Zizzi 🙂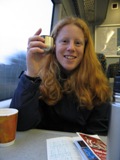 Drinking tea in the train
That weekend I have also bought some plants for my room. The most exciting one is a jasmin plant, my room smells so nice now!!
Nicole had her birthday on the 10th of February and she made us an amazing dinner!! We brought candles for on the cake, but she decided not to make one… so then we just put them in 2 big bananas to surprise her 🙂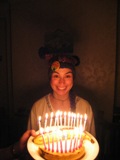 We gave her the Cities and Knights set for Catan, I am spreading the addiction!!
Last week I tried to sign up for a trip to the Lakes with the Fell club, but even though I was there at 8:10 in the morning, I didn't make it, they had too many people signing up.
The weekend of 18-19 February was fun! On Saturday the weather was really nice, sunny and even warm, it felt like Spring! I went for a walk with Colin, along the river, a beautiful area of Norwich that I had never been before. At night we had dinner with lots of people before going to the barn dance for international students. We also surprised Tanja, she had her birthday earlier but nobody knew about it and she didn't have a good day… so we decided to make her a cake and have a surprise party!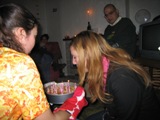 The barn dance was GREAT, lots of fun. They taught us English/Scottish/Swedish dances, and it's very social since you are constantly changing partners. A great way to meet a lot of people. They made us pancakes too 🙂 I had a great night!
On Sunday I went on a day walk with the Fell Club. Unfortunately the weather had changed to the usual weather: grey and cold. The walk wasn't very scenic either, just lots of muddy fields. We saw a nice old church and a big industrial area with a tiny WWII memorial. The highlight of the trip was a terrain where we found huge plastic dinosaurs, apparently they were made by that factory. Really bizar! We hiked about 13 miles, stopped for lunch at a pub, and then hiked back to the train station in Salhouse (only 5 miles from Norwich). It was a nice day!
Last week was a busy one! I went dancing on Tuesday, to a Brazilian Party on Wednesday, and I went for dinner & a movie on Thursday night with people I met at the barn dance. We saw Munich, it's a good movie but very violent and it's almost 3 hours long. It was a bit too long, too bloody and too heavy for me! On Friday I started having a cold, so I went to bed really early. On Saturday I helped Colin who was working in Nicoles garden, that was fun! At night we went to Paolas birthday party 🙂
Then on Sunday I went to Cromer with Nem. We hiked on the beach from Cromer to Sheringham, it took us 2 hours. In Sheringham we ate chips and had a nice stop for some hot chocolate 🙂 it was quite cold and windy on the beach! On the way back we decided to walk on the cliffs, good choice because in the mean time the tide had become so high that it was almost impossible to walk on the beach. Going back only took us 1,5 hour. It was a really nice day and a good walk!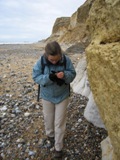 Nem the geologist explaining what the cliffs were made of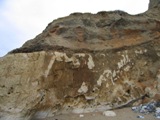 Nice layers!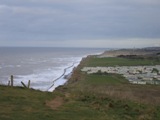 The highest point in Norfolk, we were so proud of ourselves 🙂 The church that you see is in Cromer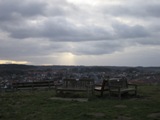 Nice view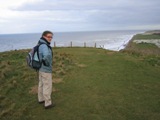 Nem
The coming week is going to be busy again… Tomorrow is Pancake Day, the day before Lent starts. I guess that's an English tradition, it's new for me. Colin is making pancakes for us 🙂 should be good!
On Thursday I am going to Lowestoft for a Sea Survival Training. I need to do that for the Antarctica research cruise. It's theory in the morning and then the rest of the day in the swimming pool, where they will simulate waves/rain/darkness and you need to save yourself. It sounds like fun 🙂
And next week on Wednesday I am going down to BAS to have a supervisory meeting. I need to prepare a lot for that meeting, so until then I should work really hard!!
I'll finish with some random photos I found…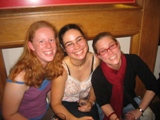 This is quite a while ago.. Me, Nicole and Nem slightly drunk at the Norwich Beer Festival. I like this photo!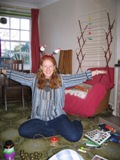 Me pretending to be a Christmas tree 🙂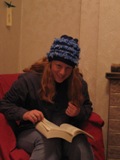 The crazy hat that Nicole made for me! I don't usually look so evil by the way 😉
Take care!
Hanneke