Brazil part 1: Ilha Grande
In November/December I decided to escape the dark time in Tromsø and catch some summer sun in the southern hemisphere: I spent 4 weeks in Brazil! I flew from Tromsø to London and from there direct to Rio de Janeiro. I was visiting friends there, but I only spent about 12 hours with them before I left for a 5 day adventure to Ilha Grande (I came back to Rio afterwards, but more on that later). I used a company called EasyTransfer to get there: they picked me up from my door, and with a minibus full of excited backpackers we drove to Conceição de Jacare (about 2 hours from Rio), from where we caught a boat ride to Vila Abraão on Ilha Grande (about 45 minutes). See below for a map of the journey…
The trip there is a great way of meeting people, and I was lucky enough to meet a really fun group of French people (part of a samba band from Paris 😀 ) with whom I spent most of my time on the island. It took me a while to locate my pousada (Brazilian guesthouse) but I didn't mind walking through the sandy streets of Vila Abraão. The island is car free (no proper roads either!) and has a very relaxed atmosphere. I stayed at Aratinga Inn, a wonderful place. A super friendly owner, beautiful rooms, a hammock and an afternoon tea with wayyy too many cakes to try – who could ask for more? 😀
The next day I joined the French group for a day of hiking, to Lopes Mendes, a famous beach on the south side of the island.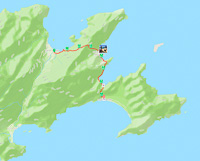 We started from the beach, then climbed up through the jungle. At some point we had a nice view back to the village…
We walked through Atlantic rainforest, which was so exotic to me 🙂
Lots of critters everywhere, and very lush vegetation.
Then imagine, after a sweaty uphill hike through the jungly, the path finally descends until you reach this view… Palmas beach 🙂
Time for a coconut and a refreshing dip in the sea!
We didn't rest for for too long though, we were only halfway through our hike here…
But I couldn't help slowing down for lots and lots of photos along the way…
Not long after Palmas beach we reached the next beautiful beach: Pouso.
Another paradise, postcard-perfect beach!
We didn't stop for a swim though, as we were close to our final destination now. We did stop to negotiate a water taxi back from this beach as late as possible (at 18:30), so we could enjoy Lopes Mendes to the fullest (you can't take boats from Lopes Mendes as the waves are too big there).
It didn't take long to reach Lopes Mendes from there, a HUGE white beach with sand so fine it squeaks under your feet 😀
We found a very Brazilian photo opportunity that we couldn't resist…
And then we swam (well, more like: played in the big waves until they got too big for my liking), and had lunch, and relaxed, and went for walks, and took lots of photos… 🙂
Until it was time to catch our water taxi back to Vila Abraão. A caipirinha on the beach at sunset, followed by a big dinner. Followed by SLEEP – I was totally exhausted, but it had been a perfect day 🙂
The water taxi guy had convinced us to book his boat for the whole next day, to enjoy more beaches and to go snorkelling. Here we discovered the not-so-paradise side of the island: huge container ships passing and a snorkelling place that was very crowded with quite a lot of rubbish floating around. Our next stop was an idyllic beach though, where we had lunch and swam and read in the shade. The highlight of the day though, was stopping at a floating bar where we drank caipirinhas…
… but best of all, where we snorkelled with TURTLES. Oh this was pure magic! Owls are associated with wisdom, but I think it should be sea turtles instead. They look so wise and old, and swim calmly. It was a dream and a feeling of total freedom to be able to snorkel next to these amazing creatures…
There were lots of turtles and we couldn't get enough of taking photos of them…
We stopped for more snorkelling at the Blue Lagoon…
Our final stop was at a beach where we walked to a nice waterfall.
We saw monkeys during the hike, including a baby one! I didn't get any good photos of them, but it was an amazing experience. We got back to the beach at sunset, time to go back…
Most of the French group was leaving the next day, so we went for a very nice dinner on the beach…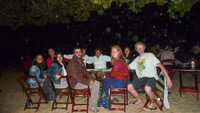 The next day some people were planning to climb Pico do Papagaio, a spectacular 982 m high mountain shaped as a parrot's beak. I REALLY wanted to climb it, but I had burnt my back pretty badly during the day on the boat and I was very tired. So instead I had a very lazy day, reading in my hammock and going for a short walk. At the pousada, a roadrunner type bird ran into my bathroom 😀
I took some photos around the village as well. The amazing VERY blue church…
At the waterfront 🙂
And some more village views…
The lush vegetation always amazed me 🙂
And on my short walk I encountered the vultures that are souring in the sky over the island all day long, another pretty beach, and an old aqueduct built in 1893 with stones and whale oil 😀 (and it's still in use!).
In the evening I met up with the exhausted Pico do Papagaio climbers, who were joined by two Englishmen who turned out to be members of Norwich Samba Band – the world is a small place 😀 I was very envious of the amazing photos they came back with, but judging by the exhaustion of these much-fitter people I was convinced that I had taken the right decision. The next day it was time to say goodbye to Paradise Island, and head back to noisy Rio de Janeiro… One last look, and in this photo you can clearly see Pico do Papagaio.
Ilha Grande was truly a dream, such a laid-back, beautiful, exotic island. Go there if you have the chance! I can't even capture it all in my photos, as the incredible sounds of the jungle (especially at night), the music playing everywhere, and the fantastic sea food and other dishes are a large part of the experience!