USA Adventure Part 5: Little Wild Horse Canyon
USA Adventure Part 5: Little Wild Horse Canyon
After three days in Moab, it was time to move on. We drove about a 100 miles, our final destination that day was Goblin Valley State Park. However, thanks to our hiking book (100 Hikes in Utah by Steve Mann and Rhett Olson, published by Mountaineer Books) we knew there was a slot canyon very close to the state park. Little Wild Horse Canyon (what a poetic name!) was described as perhaps the best easy slot-canyon hike in the Southwest – so we just had to check it out 🙂
From the trailhead parking, you follow a dry river bed for nearly a km, and then the walls start closing in on both side and quite soon you are in a narrow canyon. We had never seen anything like this before, and were very excited 😀
At times the canyon was barely wide enough for your feet, and you just had to hope you weren't going to meet someone coming from the opposite direction in that section 😉 There were quite a few other people doing the same hike.
Almost all our photos from the canyon have people in it, as it's impossible to show the scale and width of the canyon otherwise! You're basically walking through a narrow riverbed, which at times of flash flooding turns into a wild river. You can see evidence of the water carving the sandstone rocks everywhere, as you zigzag your way up the canyon.
Smile, smile, smile… I was followed by paparazzi 😀
Paul even climbed higher up the canyon wall to get photos from above. Luckily he also found some other models in the canyon: lizards 😀
I had a go at climbing up a bit higher, the canyon walls are sometimes so close together that it's not that difficult…
At some points the patterns in the wall were changing, and there were so many holes that it looked like Swiss cheese 🙂
My favourite part of the canyon!
As the light got softer late in the afternoon, I took some more abstract photos of the smooth rock.
We came across these iron oxide balls in the canyon walls. Some were whole, like marbles, and some were broken open and hollow inside. I found out later that these are also known as Moqui Marbles. Moqui is Hopi for "dearly departed ones". According to legend, the departed ancestors play with the marbles in the evening when they are allowed to visit the earth, and they leave the marbles behind at sunrise to let their relatives know they are happy and well 🙂 Apparently they can also stabalize your energy field when it's disrupted by for example night shifts, so perhaps I should have brought some home with me 😀 I wish I had known more about them when while we were there, as there are some places where huge ones lie around on the ground, like in this photo – would have loved to see that!
Finally, the canyon opens up again into a wide space. From here, you can climb out the canyon and drop into another slot canyon that brings you back to the parking lot. But as it was getting late, and Paul was suffering from a cold, we walked back the same way – either way, the canyon is so pretty that we didn't mind backtracking 🙂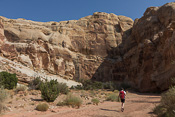 What an adventure! We really enjoyed the slot canyon 🙂