Sunrise at Veluwezoom National Park
Sunrise at Veluwezoom National Park
In August I had two weeks of holidays to spend. Having only just moved back to the Netherlands, I was keen to spend more time in my own country 🙂 One of the areas I visited was Velp, and the nearby Posbank. The official name is Veluwezoom National Park, which is actually the oldest national park in the Netherlands (founded in 1930). It's a hilly area (yes, we do have hills in the Netherlands!) and in August the flowering heather turns the hills into a purple carpet. I had never been there, despite living very close when I studied in Wageningen, I must have been lazy back then 😉
Checking the weather forecast, I found that there would be one misty sunrise while I was there (rain was forecasted for the following days). So, I put my alarm for 05:15, wondering if I would really be crazy enough to get up that early AND cycle up the hill. Spoiler alert: I was 🙂
Cycling up in the darkness and chill before dawn was something special. There's nobody around and I saw a lot of wildlife this morning: two wild boars, one with babies (awww…), a few wild horses and deer.
And once I got up there, I did not regret getting up so early. What a magical view!! There was some mist hanging in the valleys and I patiently waited for the sun to rise from behind the hills. There it was…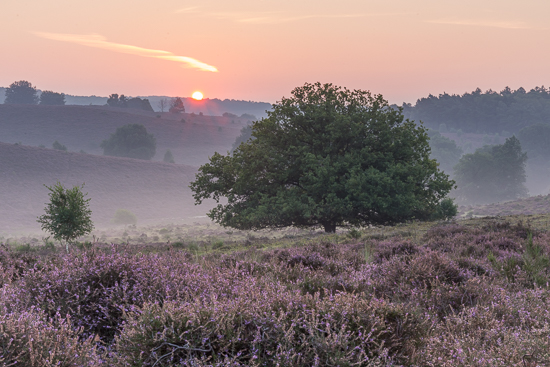 I thought I might meet a ridiculous amount of photographers, as this is a really popular place to go. But I went to a lower area on the hills that you can only get to by bike (or walking), so I think most photographers were elsewhere and I nearly had the place to myself. So beautiful! This is a panorama shot of the same scene…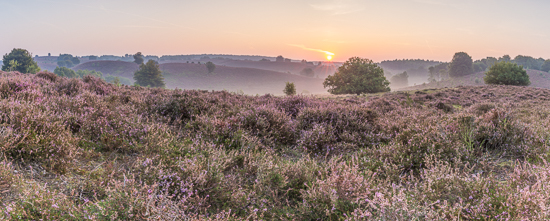 Once the sun got up, the colours changed rapidly to deep yellow and oranges…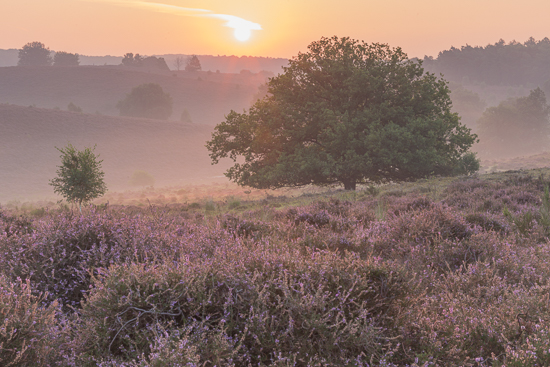 I walked around a bit, looking for scenic views, but they were everywhere!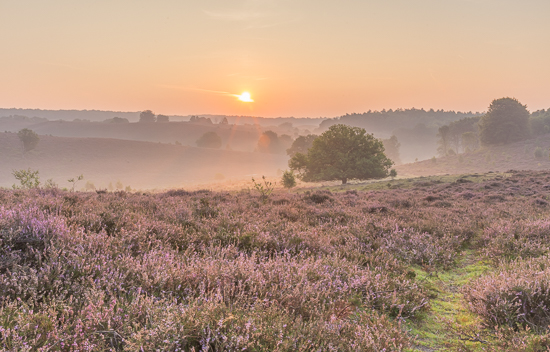 I loved the warm sunlight streaming over the hills. At such moments, you can only feel incredibly lucky to be alive and to witness such beauty…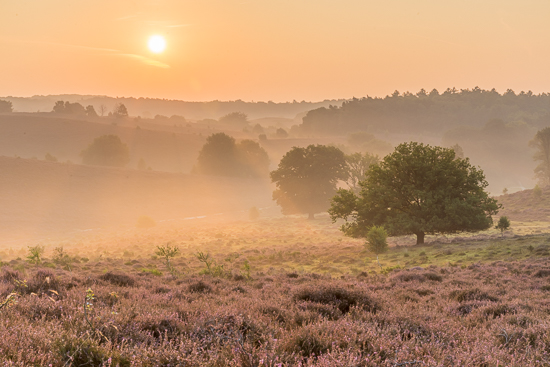 I do understand why this area is so popular with photographers – there are plenty of really pretty lone trees, and the colour of the flowering heather is just spectacular!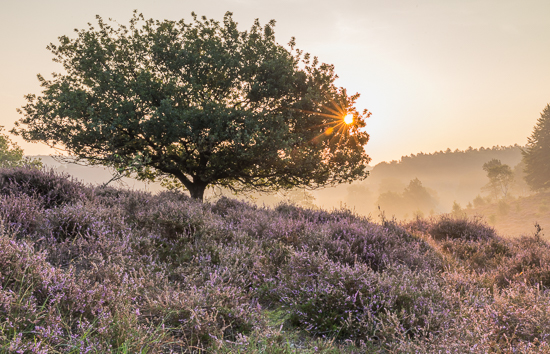 When the sun got higher, the mist started to disappear. I followed a small path…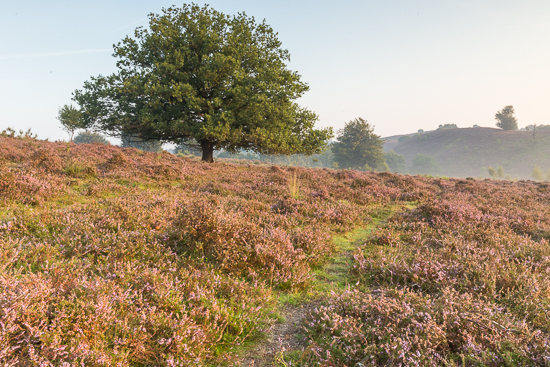 The path brought me further down the hills to a group of trees.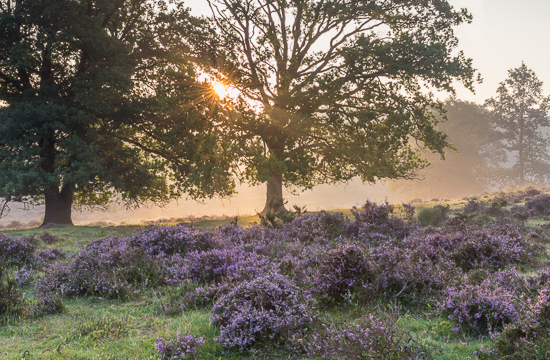 This last photo was taken at 07:30, only 40 minutes after the first one. The light has really changed and it was time for a new day to start – one of the hottest days of the summer actually. I was glad I cycled up in the early morning when temperatures were much more bearable 🙂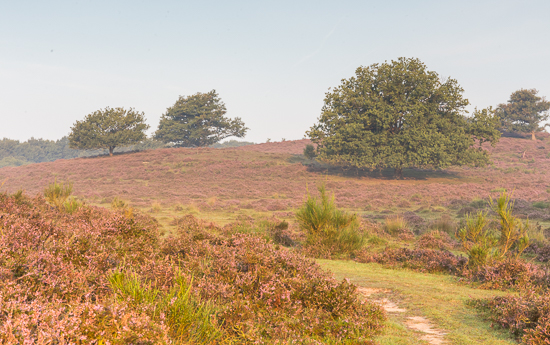 I got back on my bike, and cycled down the hill back to the very nice B&B I was staying in (it was even called "very nice" or Erg Leuk in Dutch), where breakfast was served as soon as I walked in the door – perfect!!