Apologies for the long silence on this blog! A lot has happened in the mean time: I have left Norway after nearly 10 years, and moved back to the Netherlands after more than 13 years abroad! I've moved in with Michiel, in Rotterdam – exciting times!
I've taken my car with me, so last week we drove from Oslo to Rotterdam. We didn't have a lot of time, but we managed to spend 3 wonderful days driving along the west coast of Denmark, which was so much fun! Here are some photos…
We took the ferry from Langesund to Hirtshals, arriving in the evening. We spent that night in Lønstrup, a small village about half an hour south of Hirtshals. It was REALLY windy, impressive to watch the sunset and crashing waves from the beach and dunes at the coast.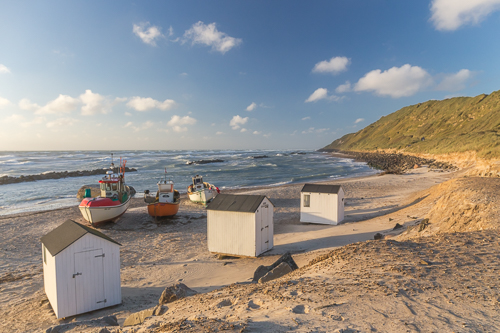 We climbed to the top of the dunes, but it was SO windy that I didn't want to stay there – I thought we might actually be blown off by the wind…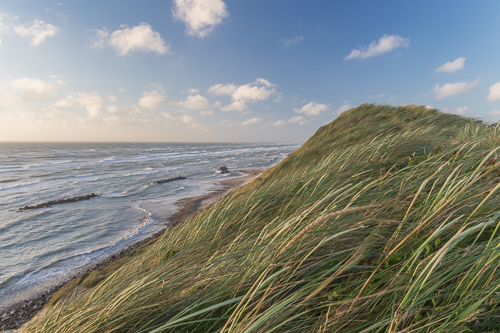 Lucky panorama of the sunset, with a bird silhouetted in front of the sun…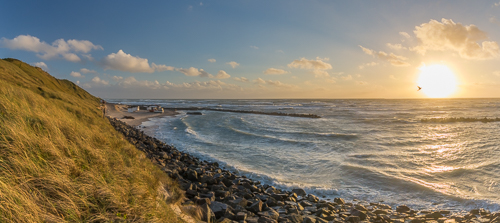 Michiel on the narrow path that followed the dunes. There wasn't much beach left at the bottom of the dunes, coastal erosion is a big problem here.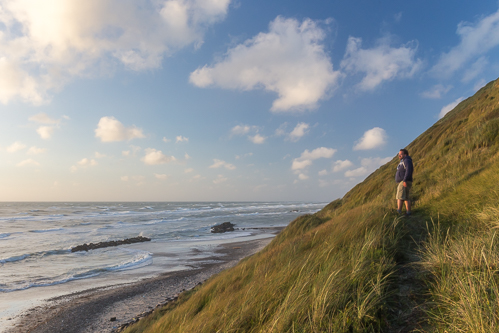 The light was so beautiful that evening, I took a lot of photos!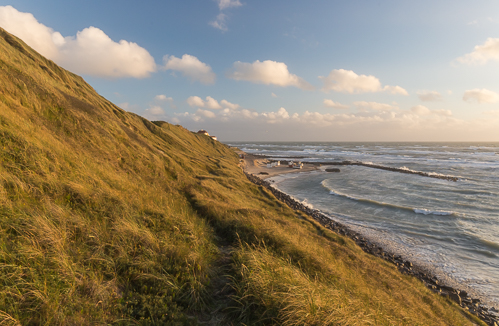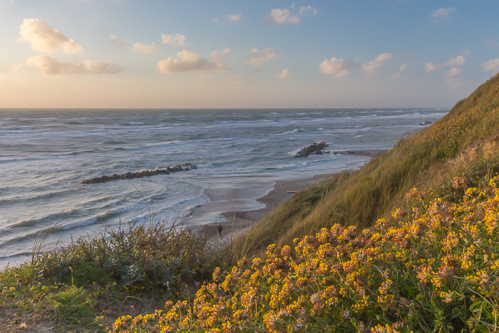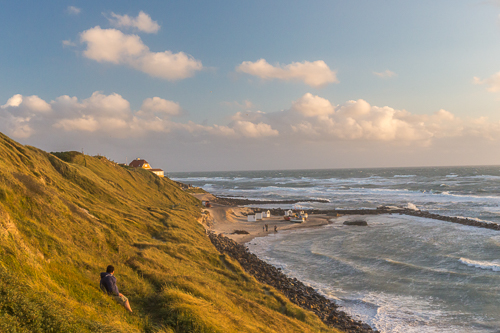 A very happy Hanneke in her element: beach, dunes & wind!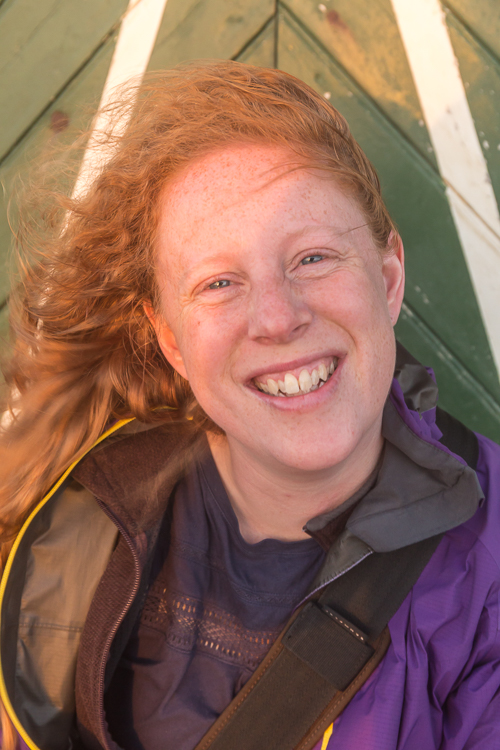 We followed a path to another stretch of the coast…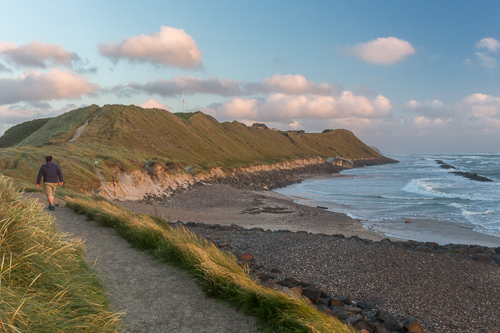 And watched a beautiful sunset, and big crashing waves!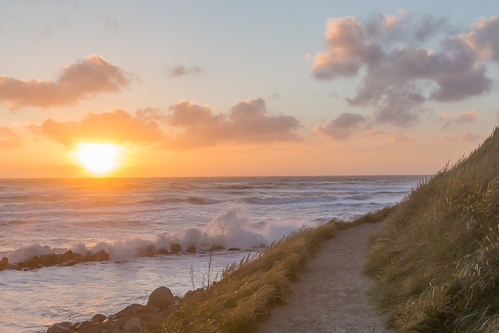 The next morning we drove a short distance south of Lønstrøp, to a big parking lot from where you can walk to Rubjerg Knude Lighthouse – a really impressive place. This is from the start of the walk…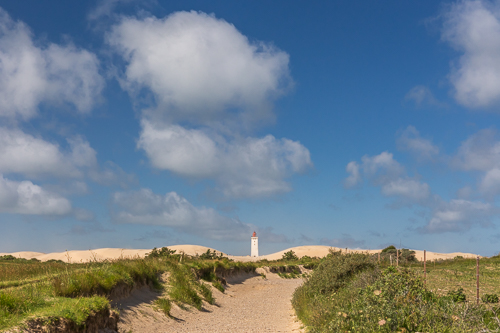 And here we had reached the 60 m high sand dune – and felt like we were in the Sahara!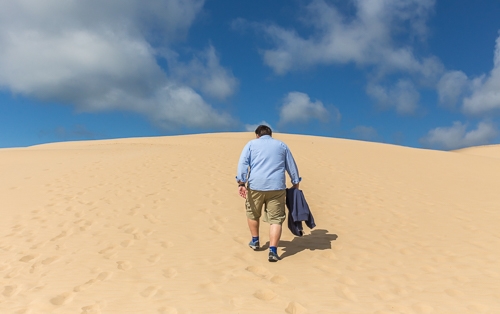 Rubjerg Knude Lighthouse was built in 1900, but in more recent times it was threatened by continually shifting sands as well as coastal erosion. There used to be a couple of buildings next to it, which used to serve as a cafe and museum. In 2002, everything had to be abandoned due to the sand swallowing the buildings. The two smaller buildings were eventually removed, and only the lighthouse is still standing. It is expected to fall off the cliff in the next 15 years, but until then, it is a really impressive place to visit and experience the power of nature!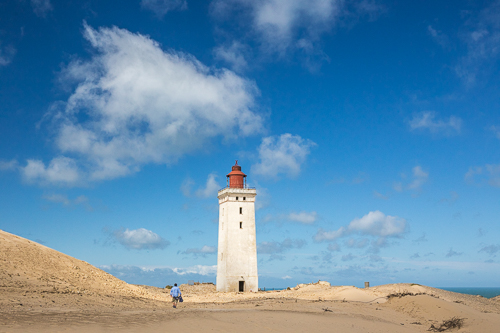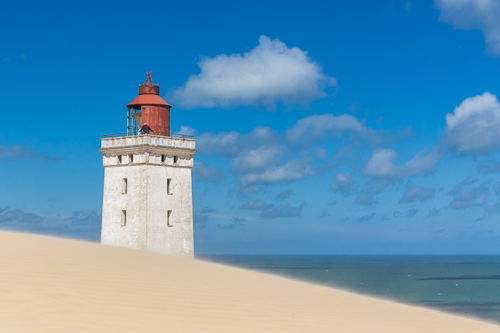 The views in the other direction are really impressive – it feels almost surreal to be on top of this huge sand dune and look out towards Lønstrup and the surrounding countryside!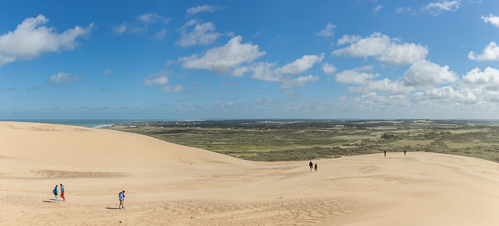 Couldn't help myself, I had to take this really cheesy photo…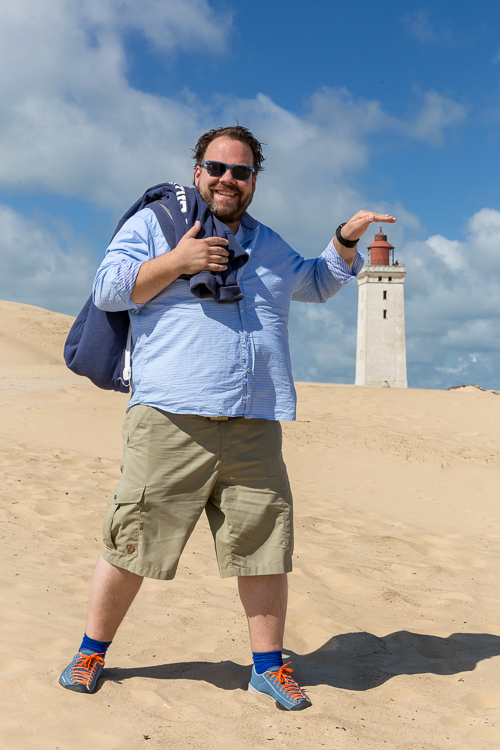 Later that day, the weather turned cloudy and even rainy, so I didn't take a lot more photos. We spent the night at Nymindegab, these two photos were taken the next morning right next to our hotel…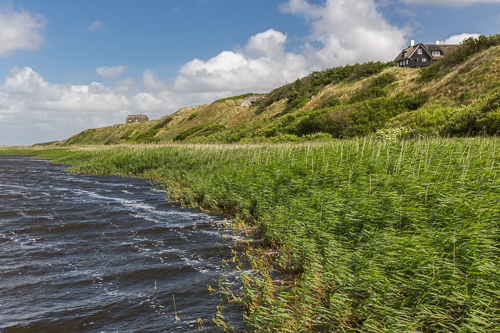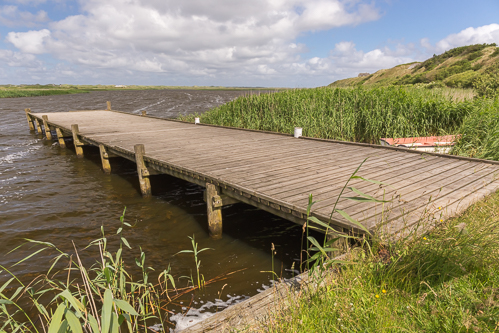 Our last stop on the coast was Rømø, a Danish Wadden island that can be reached by a bridge (or a causeway rather). We had some amazing cakes in a coffeeshop / antique shop, and drove around the island. At some point we wanted to go to the beach and looked for a parking place – we didn't see any though and suddenly we were driving ON the beach! The beach is huge here, and they let cars drive on some parts of it. A bit strange, but quite fun!
I know neither my dear Subaru or me are 'sexy-model-on-fast-car' material, but I still like this photo!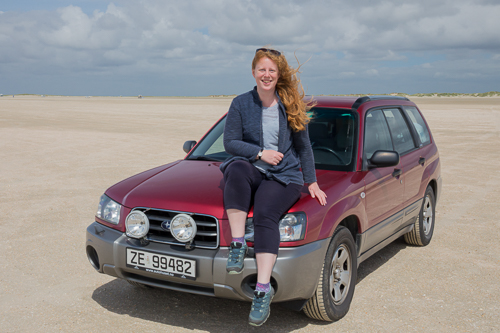 After our visit to Rømø we continued into Germany and home to the Netherlands the next day. It was a really busy week, but I was glad we were able to spend some time exploring Denmark's west coast – we both want to come back at some point!