Canada Highlights – part 1
Canada Highlights – part 1
I spent a month in Canada in the summer of 2015, but I never shared any photos – this blog post has been a draft for over a year, so I thought I should publish it as "part 1" whether or not I will ever get around to part 2 😉
---
WHISTLER
---
The reason I went to Canada was a conference in Whistler. Colin, a friend from my time in Norwich who now lives in Victoria, was also going to the conference. We met up a couple of days early and went on a beautiful hike to Rainbow Lake. It was warm and sunny, but the lake was still frozen. It was a really nice day and a great way to catch up after so many years!
VANCOUVER
---
After the conference, I spent an evening walking around Stanley Park on the Seawall. I fell in love with Vancouver – what a fantastic city. It was great to see so many people walking, cycling, jogging, inline skating or just enjoying the beaches.
SOPHIA
---
Sophia is the name of the Volkswagen campervan I rented for the remaining three weeks. She was OLD and had lots of problems (doors that couldn't lock, parts broken, she needed the garage at some point too), she was a PAIN to drive (no power steering, gears that got stuck), but somehow everyone fell a little in love with her. I think it was the feeling of freedom and adventure, the waves and smiles from other VW drivers and the convenience of always having your "home" with you.
During the three weeks with Sophia, people came and went (friends from the US and from Norway) – this was the most complicated trip I ever organised, where I needed a google document to keep track of everybody's arrival times and places. We were never more than 4 at any one time, but I often slept in my tent next to the car as the "double" beds in the van are not very spacious.
EMERALD BASIN HIKE WITH NICOLE AND PATRICK
---
After driving for two days to get from Vancouver to the Rockies, we were really looking forward to go hiking. Our first hike started at beautiful Emerald Lake in Yoho National Park, and climbed up to Emerald Basin (a natural amphitheatre). We added the remaining part of the Emerald Lake Loop Trail to the end of the hike, which made it about 11.5 km in total. A beautiful hike!
PARADISE VALLEY OVERNIGHT HIKE WITH NICOLE AND PATRICK
---
We really wanted to do some overnight hiking in the Rockies, but we were having problems finding good hikes as it was still early in the season and many of the higher trails were still snow-covered. We realised later that a lot of the people working in the visitor centres for the national parks are overly careful and tell you there's still a lot of snow on the trails to discourage people from visiting too early – once they even told us it would be dangerous to walk on one of the park roads due to avalanche danger – in the end this road opened two days later and there was NO snow in sight.
Anyway, we finally got lucky with a cheerful lady at the Banff National Park Visitor Centre – who did sell us backcountry permits to stay at Paradise Valley campground. It was a 10 km hike, passing beautiful Lake Annette, and with beautiful views of Mount Temple with its impressive glacier. Paradise Valley is often closed later in the season because of high bear activity, but we didn't meet any bears.
Time for a break at Lake Annette! Most hikers returned at Lake Annette, but there was a group of 4 young guys who were also camping at Paradise Valley Campground, who we kept passing on the way.
The hike had been beautiful, but as Patrick put it, the lady should have explained the hike as follows: "It's a really beautiful hike, but it ends up in a huge swamp where you have to spend the night". This was kind of true 😉 it also meant there were a LOT of mosquitos around which was quite annoying. This was my first night backcountry camping in bear country, and I had been very nervous about it. As long as you take precautions it's fine though, and they have bear-proof lockers to store your food (and toiletry products) during the night. Of course, you do worry about every funny noise in the night (most funny noises came from all the rock slides coming from the mountains in the distance) but I slept surprisingly well!
Before hiking back the way we came, we stopped at the Giant Steps waterfalls. A very pretty place, and we wondered why they couldn't have put the campground there?!
We had to drive to Calgary after the hike to pick up a friend, but we enjoyed a nice lunch at Lake Louise before the long drive…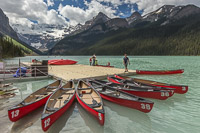 BANFF
---
We spent a day in Banff before Nicole and Patrick were flying back to Seattle from Calgary. We explored Lake Minnewanka on a very windy afternoon…
I also went for a short walk along the Bow River, and stopped to watch the hoodoos from a parking lot.
We passed through Banff several times later in the trip. It's quite a nice place, good for stocking up on whatever you need (food, outdoor equipment), but the area is really touristy and I think we all preferred the quieter places which were just as pretty (Yoho National Park for example).
KOOTENAY NATIONAL PARK
---
To escape hectic Banff, we went on a side trip to the much quieter Kootenay National Park. It was the first cloudy day in over a week, and the heatwave was also coming to an end. I went on a hike exploring Marble Canyon, and then continued through a large area of burnt forest. This was quite spooky, as the dead trees were swaying and creaking in the wind, and one even fell quite close to me!
At the end of the trail through the forest I met the trail to the Ochre Beds and Paint Pots, a really impressive phenomenon! Aboriginal people gathered the ochre for ceremonies and for trading, and it was also mined for a while (to be used as a paint pigment). I really loved the vivid orange and the unusual colours!
We spent a couple of days at the very quiet Redstreak Campground, high in the hills above the village of Radium Hot Springs, with a great view of the Columbia Valley. It was fun to watch the showers come in on a rainy day… We also tried the actual Hot Springs which was really nice!
LITTLE YOHO VALLEY TO EMERALD LAKE HIKE
---
After visiting Kootenay National Park we went back to our favourite Yoho National Park again :). One day I hiked from Yoho Valley over the Yoho Pass all the way to Emerald Lake.
The hike started with nice views of Takkakaw Falls, then went through the forest until I reached Yoho Lake. So pretty!
There is a campground near the lake, a very pretty place. This was the only time I met people on my hike until I reached Emerald Lake.
It was still early in the season, and around Yoho Pass there was some snow. Nothing problematic though, and the rest of the hike down to Emerald Lake was really pretty!
I was hoping the cafe at Emerald Lake Lodge would still be open, but I was just too late! Oh well, I had a nice break at the canoe dock, and a little chipmunk (eating dandelion seeds!) kept me company 🙂
I was picked up from the parking lot at Emerald Lake, and on the way back to the campground we stopped at the Natural Bridge over the Kicking Horse River – impressive!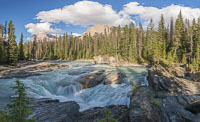 I had signed up for a Burgess Shale fossil hike the next day (you can only visit on a guided hike), which I was very excited about – unfortunately our VW camper Sophia broke down and we had to get to Banff to fix it. I hope I can visit this area another time, and go looking for the fossils!
---