I am in the Netherlands right now, and a couple of days ago I went for a bike ride before dinner, around sunset. From my parent's place, it only takes about 5 minutes to cycle to the entrance of National Park Zuid-Kennemerland. In the park, no cars are allowed so it's a great place for walking or cycling. It was a beautiful evening…
While the sun was setting, a nearly full moon was rising behind me. I walked up to a high dune with a viewpoint on top, for some great views of the orange sunset.
Cycling back I passed the Vogelmeer (Bird Lake) which didn't get its name for nothing ;) There were two swans near the shore, while the water was reflecting the pink colour of the sky. Very pretty :)
After that I had to rush back home, but I took another photo of the sunset that was turning red.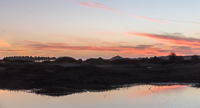 Tags: cycling