As of a week ago, I live in Oslo! I have tons of photos waiting to be blogged about – from various trips around Tromsø and the long road trip from Tromsø to Oslo – but first some photos from today's bike ride through Oslomarka (the forest around Oslo).
I started with a long climb – about 14 km of climbing, 450 m up. It was very doable though, and the weather was perfect: sunny but not too warm and a nice breeze. I was proud to see how far down Oslo was when I turned around at some point 🙂
My destination for the day was the lake Skjennungen – a very pretty place where I enjoyed a long lunch break 🙂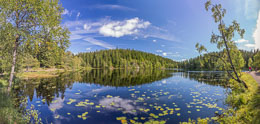 From there it was basically downhill all the way, lots of fun!
I couldn't go too fast though, as there were lots of people around – with strollers, with kids on bikes, there were almost traffic jams sometimes. But who cares, everyone was in a good mood and I stopped for another break in the sun at a small lake nears Sognsvann, before cycling back into Oslo.
What a perfect Sunday – I think I'm going to like it here! 🙂