Tromsø to Oslo – a 2000 km road trip
Tromsø to Oslo – a 2000 km road trip
At the end of August a moving truck picked up all my stuff and I returned the keys of the flat that I had lived in for six years. The end of an era, I was leaving Tromsø and moving to Oslo. It was a beautiful sunny day, and with mixed feelings I started the long drive south.
---
Day 1: Tromsø to Ballesvika (Senja) – 140 km
---
I took a week off to drive the 2000 km to Oslo, bringing my tent and hiking boots – ready for an adventure 🙂
I took the ferry from Brensholmen to Botnhamn. Before leaving Northern Norway, I finally wanted to go on a mountain hike on the fantastic island of Senja and after some research I chose Segla.
The last part of the hike was steep and sweaty, but the views were so worth it. From the top you can dangle your feet over the 639 m high drop – slightly scary 😉
The Arctic Race of Norway took place at Senja the week before, and somebody had left a bike with flags on top of the mountain – a funny sight 😀
Of course I had to take some selfies on the top 😉
What a fantastic hike! Segla means sail, and the photo below clearly shows why the mountain got that name.
After the climb, I kept driving towards Gryllefjord where I planned to take the ferry to Andenes the next day. I stopped to take a photo of Hamn i Senja, where I have stayed several time and have very good memories. This time though, I planned to sleep in my tent. I found this beautiful beach at Ballesvika, that I had all to myself!
It was a fantastic place – beautiful beach, picknick tables, a flat grassy spot for the tent, and perhaps best of all: there was even a toilet nearby.
---
Day 2: Ballesvika (Senja) to Hopen (Austvågøy, Lofoten) – 235 km
---
I woke up to another sunny day, and really enjoyed having breakfast and reading my book in the sunshine.
It was only about 7 km to Gryllefjord where the ferry to Andenes (Andøya) left. A lovely crossing, and I even met a friend on the ferry who was on the way to Stavanger with his girlfriend. Norway is a small country 😉 Once in Andenes, I continued a short way to Bleik where I went for a walk on the fantastic sandy beach.
It was so beautiful, I couldn't stop taking pictures. I was almost tempted to go for a swim, but I knew the water would be too cold for my liking.
I would have loved to spend the whole day on the beach, but I still had a long way to go so I continued my drive, following the coastal route, stopping for photos all the time.
Watching a flock of sheep crossing a river, and at Bjørnskinn it looks like you are going to drive straight into the church 🙂
I continued my way to Melbu, where I took the ferry to Fiskebøl.
From there it's not far until you are in the Lofoten. It was a calm and beautiful evening, and I stopped all the time to take photos of reflections in the fjords.
I took photos of some very shallow mist as well, before I finally found a camping spot by the water.
---
Day 3: Hopen (Austvågøy, Lofoten) – Bodø 240 km
---
The next day I woke up to a grey day with the clouds hanging low – typical Lofoten weather, but very boring for photography. I went to the Henningsvær, a small fishing village.
I visited the art museum there, which had an exhibition about according to the owner "Norway's most famous artist" – I thought that would be Munch, but she meant Bjarne Melgaard. Google him if you're curious – to be honest I didn't understand his work at all so I had to disappoint the eager museum lady 😉
I kept hoping the sun would come back, but Ramberg beach was pretty on a cloudy day as well. I found a nice rock to read my book on 🙂
After eating dinner in Reine, the sun finally came out again and I took some photos of this picturesque village – this is probably the most-photographed view in the Lofoten though so I wasn't very original 😉 I continued to Å where I watched sunset at a beautiful little lake. It looked like a painting!
I decided to drive to the ferry even if I was way too early – or so I thought, but I had misread the time table and a ferry for Bodø arrived 15 minutes after I joined the queue. Nice! Watching the Lofoten become small on the horizon during this spectacular sunset was quite magical. This was also the furthest I had travelled previously, so from now on I would be visiting new places – exciting!
I arrived in Bodø in the middle of the night, so I went to a hotel for a good night of sleep and a much needed shower 😉
---
Day 4: Bodø – Flostrand/Utskarpen – 265 km
---
I was excited to leave Bodø and see new places, so I picked up a brochure about the Helgeland coastal route from the tourist information and I was on my way. This route is over 400 km long and has 6 ferries. It was once again a beautiful day, and I really enjoyed driving through this beautiful landscape…
After some very long tunnels, I finally got a good view of the glacier Svartisen – beautiful! I really would have liked to take the ferry to the glacier and hike up to the cabin Tåkeheimen. This cabin was voted "most inaccessible cabin in Norway", but it looks SO beautiful. Unfortunately it was too late in the day for the ferry, and if I had to wait until the next day (and then hike for two days), I wouldn't be able to continue my road trip until 3 days later so with a heavy heart I decided to drive on. I hope I can come back here one day!
My parents were driving from Tromsø to Oslo at the same time as me, though they had taken a different route (avoiding the Lofoten). Now we were back on the same route, and I decided to join them at the free campsite they had found next to the road. A very nice place!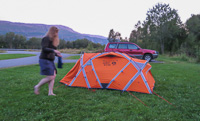 ---
Day 5: Flostrand/Utskarpen to Vennesund (Sømna) – 260 km
---
The next day was sunny and warm, but very windy. A lot more ferries and bridges were waiting… the bridge below is Helgeland bridge near Sandnessjøen.
After Sandnessjøen there were some nice views of the row of mountain peaks called the Seven Sisters. I would have loved to climb one of them, but the wind was very strong (or perhaps I was just lazy 😉 ) so I kept on driving and decided to find an easier peak further along the route.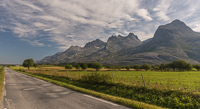 After taking the ferry to Horn, I climbed Mosfjell which has great views towards Brønnøysund – a nice evening hike!
The sunset near Brønnøysund was spectacular!
It was getting harder to find camping spots, as the landscape was changing a lot – now I was mostly driving through farmlands, and I could hardly put up my tent in a field of crops 😉 It was getting dark and I was worried I wouldn't find a good spot – but just in time I discovered the perfect place near Vennesund. It was a beach with picknick tables and a proper toilet building with running water and good grassy spots for tents.
The only issue was the wind. It was SO windy that the food flew from my fork while I ate dinner, and putting up the tent was quite a challenge. Meanwhile it was still over 20 degrees, a very strange combination.
---
Day 6: Vennesund to Inderøy – 250 km
---
After a CRAZY windy night where I got scared that my tent would blow straight into the sea (I didn't get much sleep…), I woke up to a windy morning. I drove back to Vennesund, ready for the very last ferry crossing (nr 10!) of this road trip.
Right after the ferry crossing I hit an area of rain. That was a first! The landscape was becoming gentler and I passed some large lakes. My parents told me they found a nice campsite between Steinkjer and Levangen. It was still quite early, but I decided to stop there as well.
It was a nice spot by the fjord and we enjoyed watching the sunset.
My mum took these photos of me eating some (disgusting) banana dessert that I had bought in Canada, and a photo of the typical camping life 😉
---
Day 7: Inderøy to Tretten – 435 km
---
We woke up to rain, so I decided to drive as far as I could towards Oslo. I was getting impatient to reach my new home 😉 I did stop for some hiking at Dovre though – a very beautiful open mountain landscape of mossy greens.
I hiked to a 1200 m top, which would be impressive near Tromsø, but here the road was already at 1000 m 😉
After my hike I discovered that I was near the Snøhetta Viewpoint, of which I had seen some spectacular photos on the cabinporn website – see here. Of course I had to stop! After a 1.5 km hike I reached the cabin. It was open and there was a fire burning – what a fantastic place!
On clear days you can see the nearby mountain tops, and there was a volunteer who was pointing out the herd of muskox that roam the area through the binoculars (I only saw some brown dots which could have been anything 😛 ).
On the way back down I got soaked by a rain shower, and driving on towards Oslo the rain got so strong that driving got quite scary. I decided to stop at a motel at Tretten, a strange place but I was tired enough not to care about that 😉
---
Day 8: Tretten to Oslo – 215 km
---
The next day was beautiful again, with some fog banks hanging over the river. I couldn't find a good place to stop for a photo though. I arrived in Oslo around lunch time, picked up the keys from my landlord and then drove to my new home. It had been a fantastic road trip, but now I was ready to settle in my new apartment and start my job 🙂