Last Saturday I was invited along on a hike to Bønntuva by my colleague Misha. We left Tromsdalen early on a beautiful clear day. Just above the Red Cross cabin we found the sun – beautiful!
It was cold and windy though, so we didn't linger on the top for very long – but nice views! We also realised we should have gone to Kjølen for maximum sun exposure… we kept seeing the top of Kjølen bathing in the sun 😉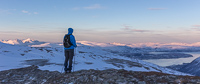 We had a quick lunch break sheltered from the wind, but it was too cold to stop for very long.
We started making our way back to Tromsdalen, hoping for a shortcut, but quickly realising we had to go almost all the way back to the end of the valley. And hurray, we managed to find a stretch of deep powder snow – very nice, except when you don't have ski's or snowshoes on your feet! Misha was hoping to be back with his kids around lunch time, but our short hike turned into a 6 hour (exhausting!) 16 km trip – oops 😀 Luckily we agreed that it had been worth it 🙂