A couple of weeks ago I went on a weekend trip with two friends, to Skarvassbu, the only cabin on the mainland near Tromsø that I hadn't visited. We drove to the parking place of the ski slope and made our way up Krokelvdalen from there. It had been getting colder in the week leading up to this trip, but we were still surprised to see how much ice there was – frozen rivers and frozen waterfalls everywhere.
We took it easy and had a nice lunch break when we had climbed out of the valley. We stopped for photos quite a lot, plenty of pretty ice to photograph! Coming out of Krokelvdalen we walked in open terrain which was relatively flat.
At the edge of this area, we suddenly had this view – so beautiful! The big lake is called Storskarvatnan and we could see the cabins from up there. We were all awed by the spectacular view!
The distance from Kroken to the cabin was 8 km and it took us 4 hours at a very leisurely speed, including the lunch break. There were 2 girls in the small cabin which sleeps 4, so we decided to claim the newer, larger one (which sleeps 7). There were a couple of people around who were just stopping for a break, but in the end our only company was a Polish priest. He looked like a monk in long robes, and he had climbed Tromsdalstinden on the way to the cabin – impressive! He was slightly strange and unexpected company (walking back and forth outside the cabin reading his bible), but he was very friendly 🙂
Signe and I took some photos of cotton grass at a frozen lake, just when the sun was setting.
At Skarvassbu you can normally get water from the nearby river, but it was completely frozen now – even throwing a huge rock on the ice only resulted in some impressive cracks that showed the ice was impossibly thick. As there was no snow to melt, our only option was to get water from Storskarvatnan, which was open. This was quite a challenge, as it was almost 500 m to the lake. I know this doesn't sound like much, but try 500 m uphill balancing over rocks covered in rime, trying not to spill your bucket full of water!

We had high hopes to see the northern lights, as they had been very active in the days before the trip. The weather had been clear all day, but just as it was getting dark, some clouds came out of nowhere and soon covered the whole sky. What a pity! Around midnight it was even snowing lightly… oh well! We had a cosy night in, and a luxurious dinner with wine, followed by whiskey 🙂
The next morning the skies had cleared, and it was beautiful watching the first sunlight reaching the top of Tromsdalstinden!
Some very pretty clouds drifted in 🙂
We decided to walk back a different route, going from Skarvassbu to Blåkollkoia (another cabin, in the Tønsvik valley) and cross from there back to Kroken. The views were beautiful, and Storskarvatnan was like a mirror again.
Storskarvatnan…

We did this hike at a perfect time of year, as the track between Skarvassbu and Blåkollkoia is very wet once you reach the Tønsvik valley. Now all the boggy areas and all the streams were frozen which made it a lot easier! We did have to cross a couple of larger rivers, which sometimes took some walking back and forth trying to find the best place, but we crossed all of them without incidents 🙂 Here is the frozen Tønsvik river we followed for a while (luckily we didn't have to cross that one).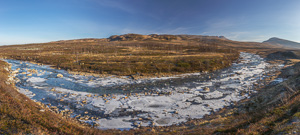 We had lunch at Blåkollkoia before climbing up to Gråurvatnet which would get us back to Kroken. We were startled by a few rype (grouse) hunters, but luckily we were colourful (and loud 😉 ) enough to be spotted in time, and not mistaken for a grouse 😉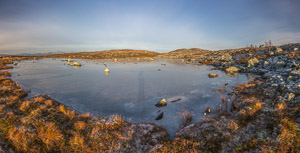 Before making our way back down to Kroken and the car, we took a group photo 🙂
It had been a wonderful trip! So glad we made the most of such a sunny weekend 🙂