For a long time, we'd been planning to visit the ski tracks at Kvitfjellet on Kvaløya. We tried once, in early December, but then the conditions were like this…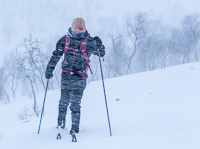 … and we didn't get very far. We kept checking a website called Skisporet, which shows you when a ski track has last been made, Kvitfjellet is one of the areas that's included on this website. After 10 days or truly horrible weather (and horribly busy shifts, click here if you want to see me on the Norwegian news, talking about the bad weather, and looking exhausted 😀 ), it finally cleared up. Avalanche danger was high, so luckily Paul was happy to join me on a cross-country ski trip on Kvitfjellet.
Ohh how spring sunshine warms the soul… even though it was bitterly cold that day! We had a fantastic day in the mountains, with a welcome lunch break at the skihytta halfway along the 10 km long loop.
On a sunny Sunday, you're not going to be alone here…

After some sandwiches, chocolate and a hot drink, we were ready for the last part of our trip.
The mountains soon turned pink in the sunset, it was beautiful! And I was really impressed with the track through this beautiful area 🙂 I wasn't "allowed" too many photos though, as Paul was cold. It was around -15 up there!
The last 4 km was downhill all the way, which was a LOT of fun 😀
I don't think this was our last visit to Kvitfjellet 🙂 It's a long drive (almost an hour), but totally worth it!