Tykky at Riisitunturi National Park
Tykky at Riisitunturi National Park
I still remember the first photo I saw of "tykky": the Finnish name for the accumulation of hard snow/frost/rime on trees on top of some mountains in Finnish Lapland. These areas often experience low cloud cover and mist, combined with moderate winds, so the ice and snow stick to the trees and a thick layer accumulates during winter – especially during the months without much sunlight (which could melt the snow and ice). The photo that started my obsession for tykky was by Italian photographer Niccolò Bonfadini, and it's called "Sentinels of the Arctic". Intrigued by this fantastic image, I started to research where this photo was taken, and slowly a plan was born…
There are several places where you can find tykky, but one of the best is Riisitunturi National Park in Finnish Lapland, not far from the border with Russia. A 750 km drive from Tromsø – one way! We split the trip in two, and spent one night near Muonio on the way there. We finally arrived at the parking lot for the national park quite late on a Saturday evening – luckily the cabin that we planned to stay in was only 2 km away. When we got to the cabin, we found a man and his son were already in bed, so we quietly ate some biscuits and cheese and went to sleep. The next morning we woke up in a true Winter Wonderland…
The cabin is located just below the top of the hill (about 450 m high), so we set out to explore in that direction. I had dreamed about this trip for a long time, and I couldn't stop smiling at the beauty all around me 🙂 In the weeks before our trip, I often checked webcams and weather reports of the area, and it had first been warm and windy (destroying the tykky). Then it turned cold and foggy (good for building tykky!), and finally we timed our trip perfectly with the arrival of a stable high pressure area with lots of clear and cold weather. I wish I could say those are the skills of a meteorologist, but to be honest it was more like good luck 😉
We slowly made our way to the top, stopping every couple of meters to take photos… The sun was already setting (behind some clouds on the horizon, that day we didn't see any sunlight), and a near full moon was rising in the opposite direction.
The best tykky were found on top of the fell, where they were more isolated, and very photogenic against the twilight sky and the views of the wider landscape in the background…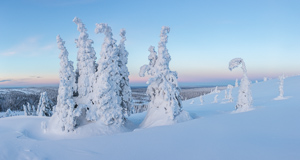 You don't need much fantasy to see all kind of creatures in the trees… from E.T. to a snow dragon 😀
We made our way down to the valley on the other side, where the forest was denser. Our destination for the day was this typical Finnish "lean-to" shelter with a campfire place. It was completely snowed in though, and it would require a lot of hard work before we could even think of starting a fire (plus we forgot to bring matches or a lighter :P). Instead we just crawled in and had some snacks before returning to the cabin.
Darkness caught up with us before we reached the cabin, but it didn't matter with the bright moonlight 🙂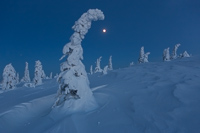 It was now Sunday night and most tourists had left the park. There was one guy at the cabin who was testing gear for a Finnish outdoor magazine. He had dinner in the cabin, and then left to sleep in a tent not far from the cabin. We chatted to him for a bit and he told us that some other people had asked him to warn us that we left a light on inside our car. We were already worried about our car battery surviving the extreme cold conditions (it was between -20 and -25 in the park), so having left a light on was not exactly a great idea. Paul decided to do a quick roundtrip to the car to turn the light off. It was silly that we didn't check more carefully, but at least we fixed it within 24 hours, and it seemed the battery was still going strong then, so we crossed our fingers it wouldn't be a problem later on.
We spent the evening taking photos of the hut in the moonlight. Paul's startrail photo captured some weak aurora's near the horizon, which we couldn't see with the naked eye.
I will include some information about the cabin, in case anyone is thinking of visiting – we found it quite hard to find detailed information online, though we did get some great emails back when we emailed the national park information centre.
The cabin is a so called "open wilderness hut" where you can spend the night for free (1-2 nights is the recommended maximum length of stay).  The road to the nearest parking lot is ploughed all winter, and from there it's less than 2 km to the cabin. When we were there (mid January), there were no ski tracks, but later in the season they make a track to the cabin and to the top of the mountain/hill (465 m at the highest point). Firewood is provided, as well as gas to cook on. The hut can accommodate up to 6 people (2 bunk beds, where the bottom can sleep 2). It's very basic, you need to bring most things with you (ALL cooking equipment like pans/plates/cutlery, candles/lights, toilet paper, a warm sleeping bag, possibly a mattress as there are only 4 thin ones in the cabin). There is a wood shed and outdoor toilet. In the Norwegian cabins we are used to having buckets available to melt snow on top of the wood stove. No buckets here, and the wood stove doesn't have a flat surface, so it's impossible to melt snow on it. Instead, during winter time you will have to melt snow on the gas stove (something not allowed in Norwegian cabins as it uses too much gas!). We only had 2 small pans with us, and if we filled them both with snow, we got exactly 2 mugs of water from them… Not very efficient, so in the end we used a plastic bag to collect snow, and while snow was melting we constantly took out about half of the boiling water from the pan, and filled it up with snow. Something we also learned from experience: don't put a pan full of snow directly on the gas stove. Snow is a good insulator, and if you don't have a layer of water in the bottom of your pan, the bottom will overheat, glow red,  and possibly damage the pan.
The next morning we had planned to leave a 20 km ski trip to another wilderness cabin, but our alarm (aka my phone) didn't work and we woke up rather late. We quickly decided to stay another day, especially after seeing the beautiful sunrise…
We more or less ran outside to take photos of the beautiful light. This was the first time we saw sunlight here, as there had been clouds on the horizon on the previous day.

A park ranger came to the cabin by snow scooter, and he started clearing the snow away in front of the outhouse, in front of the door, around the fireplace and wood shed… he worked really hard, which made me feel guilty so I started to saw wood for the stove 😀
After a quick lunch, we turned our sunrise photography into sunset photography… the sun is up for less than 4 hours so it almost melts from one into the other. I didn't think we could beat the experience we had the day before, but I was so wrong…
The last rays of sunlight reaching the mountain top were especially magic…
After the sun was gone, I figured we'd get the same twilight colours (deep blue and pink) as the day before, but this time everything turned soft and pastel… breathtakingly beautiful!
We took so many photos, we felt like we were inside some Christmas card landscape 😀
We went down to the same lean-to shelter as the day before. Mr Park Ranger had been here as well, clearing the entire campfire place, and the woodshed and toilet. I am really amazed by the services of the Finnish National Parks!! He also left a nice snow scooter trail for us to follow 🙂
At night the moon was so bright you could see your shadow, which always makes me sing this song out loud 😀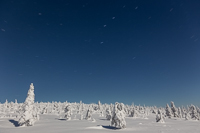 We thought we'd have the cabin to ourselves that night, and we enjoyed a nice dinner together. Suddenly, the door creaked open, and in came an exhausted looking guy. He collapsed on the bed, and just when we thought we should perhaps help him somehow, he got up to smoke a cigarette. He turned out to be Turkish, married to a Finnish woman. He could speak Turkish, Kurdish, Arabic and Finnish, but not English… He was keen to talk to us, but it was very hard. He wasn't your typical outdoor person, arriving there on wellies (if I understood him well, it took him 5 hours to walk 5 km), with a backpack full of beer and cigarettes. We had yet to find out his nicest treat though… he SNORED. Yes, lots of people do and it's usually quite annoying. But this was on a complete different level. It was so loud that I got a hoarse voice trying to talk to Paul while he was snoring. We hardly slept at all that night. Paul tried to wake him up by banging on the ceiling, but that only resulted in a huge splinter in his hand… At 3 in the morning we were almost desperate enough to start skiing to the other hut 😀 He said something about the friends that he was staying with coming to the cabin the next day, and we wondered if they just sent him there so that they could have a good night of sleep?!
Anyway, this wasn't a great start to our 20 km ski trip the next day. We started bright and early, but not very well rested. Being up some hours before sunrise was worth it though, look at this view… I couldn't believe my eyes!! You can see another version of this photo here, which shows the entire anti-twilight arch.

Unfortunately we had underestimated the 20 km trip. We had hoped Mr Park Ranger had also been in that direction, so that there was a scooter trail to follow, but no such luck. Still, we thought 20 km shouldn't be a problem as the Finnish "mountains" are very gentle (the height differences were usually only 100 m). There were lots of lean-to shelters along the way if we wanted breaks. What we hadn't thought of though, was the deep soft snow in the dense forest in the valleys. It is very hard going making your own track through deep snow, and if you add a dance around fallen trees and having to cross rivers and other obstacles to the mix, it gets really tough. It was -26 that day and I found it hard to stay warm during much needed breaks. After 3 hours we hadn't even covered 5 km! We had no idea what the rest of the way would be like, and though Paul was happy to keep going, I was getting really worried about reaching the cabin and dealing with tiredness and the cold. We finally decided to turn around and go directly back to the car – another night with Mr. Snore wasn't too tempting 😉
Reaching the car wasn't easy either, but after almost 8 hours of skiing, we finally arrived back at the parking lot. When the car started without any hiccups, I would have hugged it if I could! We ended up driving all the way to Muonio that evening, and back to Tromsø the day after. In spite of a rather unsuccessful last day, the trip itself had been fantastic!! It was a dream come true to visit this winter wonderland, and I can recommend a trip to Riisitunturi to anyone! Below is a map of our gps tracks in the park.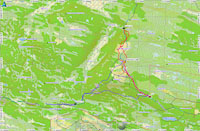 Some people have asked how we dealt with the cold: layers, layers, layers is the answer 😉 (basically: woollen thermals, a fleece layer, a down layer and a water/windproof layer – and down mittens with soft-shell gloves inside). We didn't have major problems, though I did get very cold feet once, a result of my ski boots being slightly too tight (bad idea), and standing still too much while taking photos – it wasn't a problem until I came inside the cabin and they started warming up – ouch! As for camera batteries, I was worried they wouldn't last very long in the cold, but I  was able to take about 400 photos or 2 full days of shooting using only 1.5 batteries.
Finally, some links:
http://www.outdoors.fi/ – information on Finnish national parks and other hiking areas, all in English!
http://excursionmap.fi/ – Map of Finland, including all cabins, shelters, hiking paths, ski trails, snow scooter trails etc etc…
My Flickr set of Riisitunturi National Park
Finnish Lapland – Where King Winter Makes The Rules – a beautiful article from a Dutch photographer who basically went on the same trip as we did 🙂 his photos were an inspiration for me!