Who needs sleep?
Who needs sleep?
The northern lights have been extremely active, and I went out to watch them last Friday, Saturday and Sunday night, usually staying up until 4 in the morning. On Monday I needed a break, but when they forecasted an extreme aurora event last night, I knew I couldn't stay home! I convinced Paul to come with me, luring him with promises of "the best aurora since 2003″… We left the house at 19:00, with very bright auroras dancing overhead. Even with all the city lights, I could watch them from the car, and it was so impressive. It took us a while to find a good place to take photos – and guess what, the northern lights were completely gone by then…
Eelke en Roy soon joined us, and we sat up a nice tea party on some deserted parking place in a valley not far from Tromsø. It was really dark there, and we impatiently waited for the lights to come back. And we waited… and waited… and waited… and we got very cold feet. We started taking silly photos to entertain ourselves…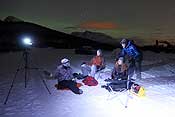 After 2 hours of hopefully watching the vague green glow on the horizon, we decided to give up and go home. After about 10 minutes of driving, the sky was suddenly filled with auroras again 😀 We quickly stopped at a nearby beach and gazed in amazement at the aurora dancing and moving and twirling very brightly, all over the sky. So impressive!
There were a few clouds around, sometimes obscuring the northern lights, but I think they also add some depth to the images.
We spent about an hour on the beach. On the way back, the northern lights kept dancing around, and we had another quick photostop at Telegrafbukta for some final photos.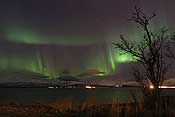 After so many nights with very little sleep, I'm happy the northern lights are taking a break. But even if they were disco-dancing in all the colours of the rainbow, I would stay at home tonight. Or would I? 🙂