We were only at home for 36 hours after our trip to Sørøya – we picked up Suse from the airport (she had been to a conference), and the next day the three us were back on the road. This time the destination was Reisadalen, a narrow canyon-like valley. The clouds were hanging low when we left, and by the time we reached Reisadalen it was raining quite heavily. We spent the night at a campsite, Paul and I slept in a cabin while Suse slept in her van. The cabin was a bit like a shed and hadn't been renovated since the 70s. The bathroom facilities next door were really modern though, AND there was a brand new sauna 🙂
The next morning we woke up to sunshine!
We drove to the end of the road, a place (well, couple of houses) called Saraelv. Here we went to Elvebåtsenteret, a company that rents out canoes and arranges transport by riverboats. We hadn't made any appointment beforehand, we just showed up at the house and talked to the owner. He was really friendly and we easily arranged transport 20 km up the river by riverboat, with a canoe, so that we could paddle back the next day. We had to wait a few hours, which gave us time to pack our stuff and enjoy the sunshine while being eaten alive by mosquitos.
The riverboat was a long narrow boat, and the driver placed the entire (3 person) canoe inside it. There were plastic chairs in it with the legs cut off, so we had a comfortable ride. The trip upriver took about an hour, and it was beautiful. We passed a couple of waterfalls, lots of birds, and people fishing for salmon. The river is really clear, and quite shallow at times, but the riverboat drivers know the river very well. Just before we got to our destination, it was almost too shallow for the boat, and we could hear the propeller scrunching over the rocks at the bottom.
We were dropped off near a cute little cabin with a grass roof, where we planned to spend the night. Luckily there was nobody else there, as there were only 2 beds. The cabin was full of mosquitos, but Suse used a spray that actually made all the mosquitos leave! It was quite dark inside, but nice enough.
Almost every entry in the guestbook mentions mosquitos… you can see the extent of some peoples frustration in the drawing below… 😀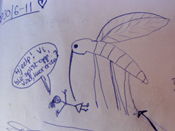 We quickly built a campfire to keep the mosquitos away outside as well. We spent a wonderful evening by the fire, next to the river. Every now and then a riverboat would pass, mostly with fishermen. It was so sunny and we were quite excited about our canoe trip back to Saraelv the next day. We even considered canoeing all the way back to the sea, and camping another night along the way.
Unfortunately, we woke up to a grey sky the next morning. Paul still went for a "swim" in the river, but it was rather chilly. Canoeing downriver was great fun, though you have to be a bit careful in the fast flowing parts. Suse was our captain and she steered us through all rapids safely 🙂 About halfway, we passed another cabin and we decided to stop for lunch. It was another grass-roofed log cabin, but a lot lighter and larger than the one we stayed in. We quickly got the fire going 🙂
While at the cabin, it started to rain. It took some courage to get dressed and back in the canoe, and we paddled back quite quickly. We took another group photo when we got back to Saraelv, quite different from the photo we took at the beginning!
We were quite soaked and very keen to get back to Storslett and a warm meal. Unfortunately, in my hurry I managed to trap my fingers in the sliding door of the camper van. Ouch!! That was really painful. Fortunately they weren't broken, it was just really painful and I still don't have feeling in one of my fingertips. When we got to Storslett we found out what had happened in Oslo and Utøya while we were away from mobile phone signal in Reisadalen, so it turned into quite a strange evening. We stayed at a campsite near Storslett, and we again opted for a cabin because of the rain. This one was tiny but very neat. Late in the evening, the sunset was spectacular. The light was so red that our faces looked funny 🙂
Incredible sunset… so beautiful!
The next day we were on our way to a fishing place, when suddenly we were surrounded by goats. Lots of them 😀 They were quite friendly, and we took a lot of photos. They belonged to a farm which had a shop selling goats cheese – excellent! We bought a big piece of mature goat cheese, so tasty.
Our fishing wasn't very successful, even though Suse caught a big cod almost immediately. Not long after, Paul managed to hook himself in his chin 😐 Too many accidents on this trip! Fortunately he stayed very calm (I would have fainted straight away) and with patience freed himself. We were going to drive a bit further, but with all these accidents we decided to stay at a nearby beach and have a bbq.
It was a really nice wide beach, and we played games, had dinner and talked until deep in the night. It was a grey evening, but suddenly the sun appeared below the clouds for a spectacular show!
We took a lot of photos…
A while later, the sun was lighting the clouds from below and painted them a beautiful orange. This is my favourite photo of this trip…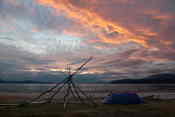 This was the only night we slept in our tent during this trip, and it turned out to be a bad choice. It started raining during the night, and it didn't stop for hours. We found out that our tent is not quite as waterproof as we were hoping… we woke up finding all our stuff was wet, so we quickly packed up and woke up Suse to ask if we could drive somewhere dry for breakfast.
The weather didn't improve that day, so after breakfast we drove straight back to Tromsø. It had been a really fun trip, inspite of all the accidents and the not-always-cooperative weather 🙂