This weekend the weather in Tromsø was perfect for skiing. On Friday night we got about 25 cm of fresh snow and for the rest of the weekend had clear blue skies. I decided to ski up Ullstinden, a mountain about 1000 m high on the the mainland about 45 minutes drive from Tromsø. Ullstind roughly translates to the wool mountain, which is a good description. Ullstinden is easy to climb, faces into the afternoon sun, frequently has good snow conditions and is usually very safe from an avalanche perspective.
About two thirds of the way up Ullstinden splits into two peaks with a sort of valley between them. The valley floor affords good views of the Lyngen Alps to the North. Many of the Lyngen Alps are too tough for my level of skiing, but some of them are quite easy. Although the area is very exciting I have never yet skied there because I don't like the prospect of having to be back before the last ferry. This is one place I would love to see a new tunnel built!
Somewhere between the valley and the top the sun began to set, but there was still plenty of light to ski by.
The snow at the top of Ullstinden was drier and more powdery than further down, but not so deep or powdery that it was hard to climb up though.
I didn't spend very long on the top as it was quite windy and I wanted to ski down while there was some daylight as well as moonlight. While the view from the top is very nice, it's not all that different to the view from two thirds of the way up.
Skiing down into the sunset was really nice. The snow was more or less as purple as it looks in the photos and the nice gentle slope provided an lazy cruise back to the car.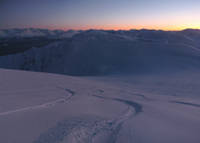 I hope these conditions last for a while!
PS: Thanks to Hanneke for sorting all out my pictures while I sat on the sofa 🙂