A week in the Lofoten
A week in the Lofoten
We spent the first week of August in the Lofoten. We had rented a small cottage there, but as it's a long drive to get there from Tromsø (about 500 km, ~8 hours) we decided to leave a day early and take the tent to sleep somewhere along the way. We took a scenic smaller road following the coast. The weather was beautiful and warm, and we enjoyed a lazy dinner in the sun at this artwork (see photo below). We then continued a little bit further, and found a nice beach to pitch our tent. As a bonus, the sunset was really beautiful too!
The next day we woke up to pouring rain 🙁 we continued on our way, only stopping in Svolvaer to buy some food. The house we rented was in Høynes, which was really only one street with a few houses and a farm. It was located in a very quiet part of the outer side of the Lofoten. It was almost always windy there. Sheep walked around the house, and the farm next door even had a sheep dog. A slightly crazy one, it was often chasing the ponies in the field opposite! This is the little house, which had a big view 😀
The next morning we woke up to sunshine! We decided to climb the mountain behind Reine. The distances in the Lofoten are quite large, because the roads often have to go around fjords. It was 80 km to Reine, quite a drive. We stopped a few times along the way, to walk along some beaches (we even ventured in up to our knees, but it was way too cold for swimming!).
Another reason we wanted to visit Reine is the Eva Harr Gallerie. The art gallery in Tromsø has some of her work and we both really like it. It was a beautiful gallery, and it was great to see more of her work. We had only seen lithographs, but the gallery also had about 20 paintings. Really nice! The one below was my favourite. The gallery also sold her lithographs, and I finally made up my mind about buying one. I bought one called "Stjernenatt" (starry night), you can see an image of it here. I am so happy with it! I still have to get it framed, but I think it will look great in our living room 🙂
After our visit to the gallery, we drove to the starting point of the hike. It was a very short hike, but extremely steep. And very muddy, so it wasn't an easy climb. And you don't get to see the view until the very last moment. The view however, is worth everything – it's so spectacular! You look over Reine and several islands behind it and the open ocean as well.
We climbed up a bit further, but at some point the path was following such a sharp ridge that we decided to turn back. Below you can see our view looking down, it was crazy! It was hard coming down on such a muddy steep path, you really had to be careful not to slip. Sometimes we had to sit down and continue on our bum 😉 We made it safely down though.
The next day the clouds were hanging low, and we decided to visit Henningsvær. A very nice place to walk around, lots of nice old wooden buildings and cosy cafes.
We also visited Kabelvåg, the town centre is very small but also fun to walk around. On our way back, the clouds were hanging around the mountains like a hat, it looked really cool!
We decided to climb a peak called Hoven, the mountain in the photo below. It's not that high – 368 m. The clouds were constantly hanging around the top, so we were a bit worried we wouldn't have a view. It was very windy on the top, and the view kept disappearing behind the clouds, but it was quite impressive anyway. There are some nice sandy beaches in this area!
The next day we decided to go for a trip with the boat. We put the boat in on a sandy beach in a calm fjord, but as soon as we reached the open ocean the waves were 1-2 m high and it was quite rough. This was my first experience of waves like that in a small inflatable, and I felt like I had to hold on very tight in order not to bounce out. I didn't really enjoy it and even felt almost seasick, so in the end we turned back to dry land. Phew 😉 Of course the weather calmed down then. We walked around for a bit, enjoying the views, and collecting some drift wood for the stove at the cabin – it was quite cold and we fancied having a fire! (for some more photos and a map of our boat trip, see here)
On Wednesday, it was sunny again! And there was hardly any wind, so we decided it was a perfect day for taking the boat into Trollfjord, a very narrow side fjord of Raftsund. It was such a beautiful day. The first photo shows where we put the boat in the water. The second photo shows a group of buildings we passed on the way, it looked so idyllic.
Trollfjord is narrowest at its entrance, about 100 m. The large Hurtigruten and other cruise ships often go in there, it must be very impressive with such a big ship. For our small inflatable though, it was easily wide enough :D. We were the only boat in the fjord, it was beautiful. We put the boat on land at the end of the fjord and had some lunch. We then went for a walk to a lake. There is a hydroelectricity plant at the end of the fjord, and we had to climb over the pipe 😀
We walked up to a lake, which was a really nice walk though not very easy as it was (again ;)) very muddy. And the lake turned out to have a huge concrete dam and concrete beach so it wasn't as scenic as we were hoping :D. It was quite late when we got back to the boat. There were lots of jellyfish in the water, and I discovered that they light up if you take a photo using the flash. They are so pretty! These ones are called moon jelly and they don't sting so nothing to worry about 🙂 Paul taught me to drive the boat, it was fun! He also wrote an article about our trip here.
We came back from our trip to Trollfjord really late at night, so we didn't do very much the next day. We drove to Stamsund, and enjoyed a nice dinner in the restaurant there.
On the way back, I took some photos of abandoned houses. I find them quite fascinating, I always wonder how they became abandoned, what the story behind them is. They are great subjects for photos, with boarded up windows and completely overgrown gardens. But you do have to be careful, as I found out when I took the second photo below…. somebody was actually still living in that house and suddenly appeared in one of the windows… OOPS!
Friday was our last day in the Lofoten and we decided to walk along a nearby beach. We started the walk in Eggum, where there's a ruin of a radar site used by the Germans in WWII. The photo below is taken through one of its "windows". The beach here is facing the open ocean and full of driftwood and items lost from ships. There is so much wood around that someone is building a kind of hut. Very nice!
Some of the wood was full of holes from woodworms. Paul took some really nice photos of the holes and the tunnels, while I was picking some blueberries 🙂
Most people walking on the beach continue all the way to Unstad, but we started quite late and didn't go that far. We walked until the lighthouse on top of the cliff. Nice view!
There were lots of sheep walking around (with bells on), it's crazy how high they climb up sometimes. Some were also just enjoying the sunset 🙂
When we came back to the car, lots of campers had found a place for the night. The Lofoten is full of campers and caravans parked everywhere. Our car looked so tiny in between these big campers 😀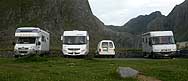 When we came back to the cabin, the sunset was really beautiful, and reflecting in the very calm sea. The first photo shows our little house on the right 🙂 What a view for our last night!
The next day we drove all the way back to Tromsø, it took all day. We had one more day of holiday left, which we used for another boat trip, and then it was back to work for both of us. It wasn't easy to get up at 7 again 😀 we would have liked a much longer holiday, but that's life I guess 😉