Arctic beaches — and a new blog!
Arctic beaches — and a new blog!
First of all, welcome to my brand new blog! Due to changes at blogger, I had to find a new home for my blog. Thanks to Ian (who has basically done all the hard work!), I now have a new blog with much more control over the layout! He also made sure nothing got lost, and if you're using an old bookmark you should automatically be sent to the new blog. This blog isn't 100% ready yet, so you might see some minor changes in the coming weeks. If you find something isn't working as it should, do let me know!
The weather in the last weeks has been quite changeable. From the nice spring weather in my last post, we went straight back to winter and we even got about 25 cm of fresh snow! It's been melting away quite fast however, and today it's raining… This is what spring is like up here and I always find it a bit frustrating.
Before the snow came, we did enjoy a trip to some beaches on Kvaløya, like this one at Tisnes – with a shipwreck on the beach! The second photo shows Paul in it, for scale…
Of course he couldn't resist climbing to the top!
Tisnes is a small peninsula with a farming community. We found this derelict shed with a tree growing from its roof! It was a great place to visit for a walk 🙂
Last Friday, I had the day off and it was beautiful weather. I decided to visit my favourite beach at Håkøya, an island near Tromsø. When I arrived, the tide was still quite high and the reflections were beautiful!
Paul decided to cycle there after work, it only took him 45 minutes! The new snow on the beach is being melted from underneath by the sea water at high tide. The snow was overhanging very far! It was hard to show this in a picture, but I think you get the idea in the photos below. The snow was still strong enough to walk on, as long as you didn't walk too close to the edge 😉
I took some photos underneath the snow layer, it was like a miniature ice cave 😀
It was a great afternoon outside 🙂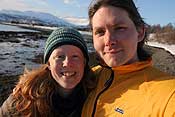 Yesterday we weren't so lucky with the weather, it was very grey. We still wanted some fresh air, so we chose a road we never drove before, and went for a road trip. The village in the photo below is called Ytre Kårvik, behind it is the open ocean.

The road then continues over the mountains, with great views. The road soon turned into a dirt road, with some very big potholes. At the end of the road there is a hydropower station, you can only continue further if you own a house there. So we turned around and went for a walk at an island called Skogøya.
Although I would have preferred sunshine, the dark grey skies in combination with the landscape were quite impressive. Paul enjoyed flying his kite for a while, scaring all the birds away 😀
Today it's been raining all day, a good day to spend inside working on my blog 🙂 And to get some rest before the coming week. I have finished my training period at work, and from tomorrow I'm an independent forecaster! A bit scary, but also very exciting. Now let's hope I can forecast some sunny and warm spring weather soon 😀