Skiing in October!
Skiing in October!
We had a lot of snow last week. I thought it wouldn't last, but it did. And so this morning we took the cable car up (which is now going to run all winter instead of closing down until March, yay!) and we went skiing! Up there (at about 400 m) there is a lot of snow (half a metre or so), and it's quite good, though a bit wet. The weather today was beautiful, with bright sunshine and a pretty band of clouds over Tromsø island…

Of course we weren't the only ones out to enjoy the first snow. There were lots of people on skis and snowboards. The group of snowboarders in the photos below made me laugh. They were walking up to more serious slopes in their snowshoe boots, but with the deep wet snow this wasn't easy. We were zigzagging up while taking lots of photo breaks, and we kept running into them. They looked really funny walking in a line wearing their very bright coloured clothes 🙂
There was also someone kite skiing, and we watched him for a while. It looked beautiful and so much fun!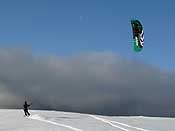 Us enjoying the snow and the sunshine…
Paul disappearing into the distance, as always a lot faster than me 😉
Before turning back, Paul wanted to get up a bit higher and I took a break 🙂 with a nice view!
We took the last cable car back down. When we entered the building, we ran into a new colleague of Paul with his girlfriend. They were a bit jealous that we were on ski's, and they happened to have the same size boots, so we swapped our ski's and Telemark boots for their hiking boots 🙂
It was a fun day! We didn't expect to be able to ski this early in the year. I am not sure the snow is going to last, as the weather is supposed to turn warmer sometime next week, but at least we made the most of it!