September in the Netherlands
September in the Netherlands
I spent most of September in the Netherlands with my family. It was nice to be back home for a bit longer than usual! It had been much too long, especially during the last phase of my PhD I hardly had time to go home for longer than a couple of days.
Veronika came to visit me on a sunny Saturday, and we spent a fun day catching up and enjoying the weather. We cycled to the beach through the dunes. The dunes have changed a lot in recent times, they don't get drinking water from them anymore (so it's a lot wetter) and they have introduced grazing animals in certain areas. We spent a long time at the "Vogelmeer" (bird lake), watching several species of birds and lots of cormorants. And some Scottish Highlanders 🙂
The skies turned grey by the time we made it to the beach, but it was still warm. We walked along the beach for a while, and then had some lunch – and rosé 🙂 – at a restaurant where you can sit outside – very nice!
We continued our way through the dunes, and found some more Scottish Highlanders. In a different part of the dunes, we also saw horses! There were so many of them…
And they all seemed to love the basket on my mum's bike! One by one they came to check it out, we were laughing a lot.
We briefly visited the ruins of a medieval castle (Brederode) close to my parents. Autumn is obviously on its way…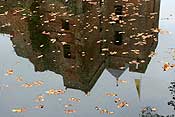 I went to the dunes a few more times, and also took this panorama below.

I also finally got to play with the lens baby that Paul gave me for Christmas. This is a very creative lens that gives special effects in sharpness, as you can see in the photo of the path through the forest. It can also take very nice portraits, like this one of my mum 🙂
My brother and I organised a dinner for the whole family (including aunts/uncles) to celebrate that we both graduated in September. It was a really nice evening! In the photo below I am cutting an enormous icecream cake for dessert 🙂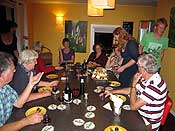 I also spent quite a lot of time with Mare, which is always fun 🙂 Though it's a bit hard to use the computer when she's near, hehe. She's so funny, if you show a picture of a cat on the screen, she's very happy and even tries to lure it towards her by making funny sounds!
My parents bought me a new lens for my camera as a graduation gift. I actually bought two 🙂 A 12-24mm wide angle lens from Tokina, for taking photos of the northern lights this winter, and a 60mm Canon macro lens. I've always wanted a good macro lens, and I'm so happy with this one! On the way back from the camera shop, my parents went to this large garden centre/nursery, so I had the perfect opportunity to try my new lens! And WOW, I am so happy with the results! Click to enlarge, I have made the enlarged versions bigger than I usually do so you can see all the details in them…
Back home I also took some photos of my mum's passion flowers. I love these flowers, they are quite incredible! And the plant has a lot of these "rolled up"branches that are very photogenic too.
I cycled around quite a lot, happy to be back in a country where this is so easy 🙂 This is a view I came across when I cycled back from Bart and Kaya to my parents, somewhere in Overveen.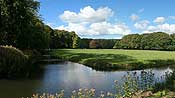 And these photos are taken in Spaarndam, a very nice village near my parents. I love the bench with the swans 🙂
That was a short overview of my time in the Netherlands, hope you enjoyed it!