Queen's Day BBQ
Queen's Day BBQ
30 April is the Dutch national holiday: Queen's Day. Paul has a few Dutch colleagues, and one of them decided to organize a BBQ for Queen's Day – great idea 🙂 I wanted to contribute some Dutch food and first thought of making "bitterballen" myself. But after reading lots of recipes I decided that it was a bit too ambitious and time consuming. So instead I decided to bake "oranjekoek", a typical Dutch cake with almond paste, orange peel and lots of aniseed and nutmeg (no cinnamon in this one!). Even though it's called "orange" cake it normally has pink icing, the name comes from the (candied) orange peel that's used in the dough. For Queen's Day they often make it with orange icing, which is what I tried to do, but it turned out pink anyway: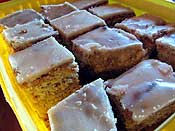 The BBQ took place at someone's house, with a big balcony with this amazing view… It was perfectly sunny, and we sat outside for the entire evening without wearing coats – even though it was only about 10 degrees. But look at this view…. 
The dress code was orange (of course!) and most people did indeed wear something orange. In the photo below it looks like Steve even died his hair orange, but I think that was just the sunset! Find the odd one out in the photo below… one English person refusing to go orange!! I did force him to bring my orange hat from my cruise with the British Antarctic Survey, but he only wore it for about 2 minutes.
After that he made everyone else at the party wear it. Below the German "team" with our youngest member Emma, and Marcel in his very orange tshirt. Sevim was also orange for a while 🙂
And Margot, though she was already completely in orange and even wearing clogs! In the other two photos you can see a novel way of grilling pølse (hot dog sausage) by Bas… 
It was a great party! And it was beautiful to cycle home over the bridge while still seeing the golden light of the sunset, at half past midnight… In two more weeks we'll have 24 hours of sunlight. Almost all the snow has melted now, and slowly the grass is turning green, the buds on trees are bursting open, small yellow flowers appear… Spring time!! Last Saturday we even reached 15 degrees 🙂 It's almost a shame to leave, but I'm going back to England for a week tomorrow. I have a meeting in Cambridge, and a symposium in Norwich. I've had to work really hard, so I'm looking forward to a few days off after the symposium. Paul is already in England, and we're going to a wedding in Southampton over the weekend. I'm really looking forward!