Klokka 2 in the morning
Klokka 2 in the morning
Two more days and the sun won't set anymore! Last night the sunset was a few minutes before midnight, and sunrise just 1.5 hour later, at 1:30. It doesn't get dark anymore, and this confuses my inner clock – I just don't get sleepy and stay up very late. This is the view from our balcony at 2 in the morning…

The mountains in the distance were just catching the first sun rays, with mist over the fjord… it was beautiful!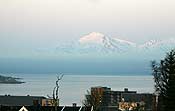 The weather has been beautiful, the snow is gone, the grass is green and the trees are finally getting leaves. Spring is here! Tomorrow is the Norwegian national holiday, which is a very important day and preparations have been going on for a while now. Flag posts are erected everywhere, marching bands practice in the city centre, everybody is cleaning their houses and gardens… it looks like it's going to be a beautiful day tomorrow, so I'm looking forward to watching the parades! It's the first time we are here for it, Paul celebrated it on the ship last year (see here) and I was on a plane (where some woman took the microphone at 7 in the morning to sing the Norwegian national anthem… haha). 
Right, this is all for now as the weather is much to nice to be sitting inside. I still have photos of England to upload (we had a great time!) but not sure when I'll have time. The photos I took at the wedding last weekend have been put online by Ian, see here. It was a beautiful day!
More soon!