We spent last week in Wales, and were lucky enough to have sunny (but cold) weather every day. We arrived on Monday evening, and at night we went for a walk. It was a clear night and all the stars were out, we could even see the Milky Way! 
We decided to try taking a star trail image. We left the camera open for about 20 minutes, and below you can see how much the stars "move" (or rather how much the Earth rotates) in that much time. Each line is one single star! The problem with taking such long exposures is that you quickly get light pollution overexposing your image, even when there hardly are any lights. The wriggly line in the photo (near the bottom) is me walking around while using the flashlight on my phone 🙂 you can even see where I switched it off and instead you can see the faint green glow of the screen!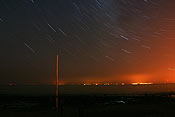 The next day was very sunny, and we decided to walk from Llandanwg to Harlech along the beach. We found something very interesting on the beach, see the photos below! These were big structures made out of sand (the second image is a close-up and shows the structure very well) with lots and lots of tunnels… in each of them lives a worm! I was very fascinated by this, and have tried to find out more. After a long search I found out they are called honeycomb worms and I found this BBC article about them – apparently they have only recently come back to the coast of North Wales, after being absent for 60 years!
We continued our walk towards Harlech, below you can see Harlech castle and the dunes. It was beautiful just after sunset, with the mountains only just visible in the mist. 
The next day we decided to visit Cregennan Lakes, near Barmouth. The drive there was beautiful, with some areas completely white because of frost. There were quite a lot of people at the lakes. We walked around the partly frozen lake for a bit and then decided to go up Bryn Brith, the mountain (well, only 383 m) you can see in both photos below. 
The views from there were really good though! In the photos below you can see Barmouth (with the railway bridge) on the left, and on the right the whole panorama from the top of the mountain.
We walked along the ridge for a while before coming back down to the lakes…
By that time it was past sunset, and the last evening colours were beautifully reflected in the lake. It had also calmed down so the lake was like a mirror.
The next day was New Year's Day and we went to visit Portmeirion. This is quite a special place! It's built in Italian style, between 1925 and 1975, designed by Clough Williams-Ellis. He also used parts of buildings that were being demolished elsewhere, so some buildings are a lot older, like the building in the foreground of the second photo below. You have to pay an entrance fee to enter the village (£7), but we had free tickets :). The village is very beautiful, with many colourful buildings:
It's located on the estuary of the river Dwyryd. The tidal differences are very large there (this is in the same location as the island we walked to at low tide last time we were in Wales!). There is a nice path that follows the coast. We also found a few "wishing trees", tree trunks with coins hammered into them for good luck. Strange sight!
There were lots of robins around, some of them were not shy at all! I played around with my new lens and got some nice photos. I also entertained some other visitors by trying to do a 360 degree turn while squatted – I think the robin was hopping around me in a circle on purpose!
Paul was having fun in a small lighthouse… the other two photos are taken at low tide out on the estuary at sunset – beautiful!
Portmeirion looked beautiful in the evening light too, especially with all the Christmas lights turned on. All the buildings in the town are either shops/cafes or holiday accommodation – must be quite a nice place to stay! I thought it would have a very artificial feel, but it didn't really – maybe because it was New Year's Day, with not many visitors and all the shops cl
osed.
On Friday, our last day in Wales, we went for a long walk, from Mochras ("Shell Island") to Barmouth, along the beach. The day started cloudy, but it soon cleared up. It was a beautiful walk, especially since there were many parts of the beach with a thin layer of water on it, reflecting the sky!
We drove back to London that evening. We haven't been up to much here, just relaxing and enjoying our last days in England. Only two more days left before we fly back to Tromsø. Strange to think I am actually "really" leaving England this time… but excited about starting a new life there!