Sunshine at last!
Sunshine at last!
I was in Tromsø for 10 days, and mostly had non-stop rain! Last weekend we did not even venture out of the flat, except to go to the cinema on Sunday evening. I do like rainy days, but it was getting a bit much… then on my last day in Tromsø we woke up to sunny skies! My flight was in the late afternoon, so we had time to go for a walk around Prestvannet, the lake on top of Tromsø island. It was beautiful with the autumn colours and the reflections in the lake! Tromsdalstinden is now covered in snow, and even the lower mountains have a dusting of snow on top…
There were a lot of young seagulls around the lake – I tried to capture their reflections when they were landing on the water…
We walked all around the lake and really enjoyed the sunshine. We weren't the only ones, we met lots of other people out for a walk with their camera's!
And a last photo of us before another goodbye at the airport…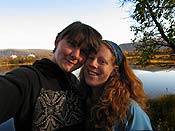 It was a bit easier this time because it won't be long – we are meeting up in the Netherlands next week! We'll be there for a week, then we both fly to London and stay in the UK for 10 days. I'm really looking forward to it!
But the best ticket I bought lately is a London – Tromsø one for early January – when I'm finally coming to Tromsø to STAY 🙂