We haven't been on any adventures lately – unfortunately the weather hasn't been very good. Here are some random photos, mostly taken today. My parents are visiting, so we've been going around Tromsø…
A Himalayan poppy (with Paul in the background) and the Hurtigruten ship "Trollfjord" – it had just cleared up after a rainy morning (this was last week) and the reflections in the puddles were very nice.
Below a photo of the docks in Tromsø. The camera was accidently set to black and white, but I'm quite happy with the result! The other photo is taken by Paul while we visited the Nord Norsk Kunst Museum – a free art museum in the city center. They have very cool white screens in front of the windows that work well as a background for photos 😉
After lots of rain, the skies suddenly cleared this evening. I went for a walk with Paul and my dad. We took the "lysløpe" track, last time we were there, we were on skis! My dad found a pair of walking poles that he's getting quite attached to…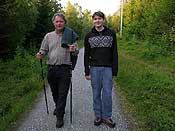 The views were beautiful! The days of the midnight sun are behind us now, the days are quickly getting shorter. A pity, but it does mean that sunsets are back!
We walked as far as this very red church. The other photo was taken when we got back to the flat, and we saw the moon rising from behind Tromsdalstinden – beautiful!