Midnight Sun Adventures
Midnight Sun Adventures
After a wonderful time in Switzerland, I flew back to Norwich – back to work, back to reality… I'm kind of stuck here on concrete-campus, working hard. As this blog is being neglected at the moment, I thought I'd show some photos from the week I spent in Tromsø in early June. With 24 hours of daylight, it was great to go for trips in the evening and not worrying about it getting dark!
This first photo shows Rekvik, a sleepy little village located at the end of a road. Very pretty!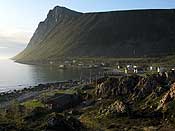 On the way back, we stopped near the fjord to take some photos of the beautiful reflections:
A few days later we went for a cycle ride. The great thing about our car is that you can easily throw things in the back – it fits both our bikes quite easily. We wanted to cycle along a fjord, but this way we could skip the first bit that was very hilly ;). After about an hour we had a nice break on a newbuilt jetty. While we had some snacks, I heard some psssssss noises coming from Paul's bike – good timing for a puncture! At least we were in a convenient location for fixing it…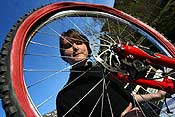 We cycled until Sandeshamn, a small villages (only a few houses) around some very beautiful sandy beaches! The water almost looked inviting enough for a swim – but neither the air or water temperature was really warm enough for that!
Looking back at those photos, I really wish I was in Tromsø! I'm going back for almost a month though, at the end of this month – really looking forward to that!