We finally bought ourselves some skis! After a long time deciding what kind of skis we wanted, we finally went for fjellskis with small skins (attached underneath the skis, for going uphill), Telemark bindings and leather Telemark boots. The skis are quite narrow (67mm) and have metal edges so in theory you can turn quite well when going downhill, but this needs some more practice/skills. We have never done Telemark skiing so we still have to learn the Telemark turn, it will make going downhill a lot easier. Though the snow here is often so thick that going downhill isn't scary at all – it slows you down and it doesn't hurt much when you fall.
The weather this weekend was beautiful, plus we recently got a car – time to explore!
On Saturday we went to Ramfjorden. This is a fjord that freezes over, even though the water is salty. It's quite impressive to see the sea ice edge, it's very straight! There were people on the ice, so we thought it would be save… But I guess you need skis (to distribute your weight) cause when Paul stepped on it without them, he went through the ice with both feet! So he was quite wet and we decided to go home first to get dry socks for him before going skiing. But I first took some pictures there of course 😉 The last two are of some huge icicles we found hanging from one of the cabins at the fjord.
While at home, I took another photo of the view… just can't get enough of it! We're getting more and more sunlight now, it's really nice.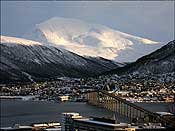 Then we finally got to try out our new skis on the tracks at Tromsdalen (in the valley on the other side of the bridge). It was beautiful there at sunset, with the mountain (Tromsdalstinden) turning very pink.
The great thing about our car: the skis easily fit in the back and you can sit in the van to change shoes etc: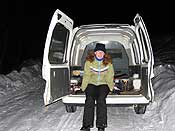 On Sunday it was sunny again, and we headed for Movik, also on the mainland. The ski paths there are really nice! Not as busy as Tromsdalen and very beautiful… We first skied to a lake (Movikvatnet), and then further up. In the first photo you can see the lake, and the next photo is taken from a lot further up:
It was so beautiful up there, amazing views and nobody else around. We did meet another couple up there at some point, they were really friendly. Too bad we had to turn around to get back to the car before it was getting dark! There's lots of huts around so we're thinking about doing a multi day trip another time.
We took lots of photos from the top bit (almost 400m high). The last photo is taken back at the lake on our way back to the car. What a nice day!!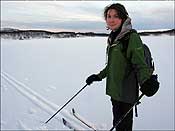 So that was a busy weekend! We're really tired now, but I can't wait to go for another trip 🙂