Hello!
We came back from Tromsø last Tuesday, we had a great time there! It's a very beautiful place. Paul had his interview the first day we were there, so I walked around Tromsø on my own. It reminded me of Alaska in a way, the pioneer town feeling of the town. Like how many of the side roads in town are not surfaced… The houses are a lot prettier though, and very colorful!
The city is located on an island, and I crossed the bridge to the mainland. The bridge is very high so you have nice views from there:
I also took this panorama of one the of ships of the Hurtigruten (the Midnatsol) in the harbour, with the bridge in the background. These ships travel from Bergen all the way to Kirkeness and are a combination between a ferry and a cruise ship. One ship per day departs Bergen! So twice a day one of those ships comes into Tromsø for a few hours.

The next day we decided to climb the hill on the mainland, to have a view of the island. We climbed up underneath the cable car track (it doesn't run in winter unfortunately!). It was very steep in some places, but the views were worth it! In the panorama image you can see almost the whole island, and other islands in the background.
We didn't make it all the way to the top, as it was really icy and steep there, and it was also getting dark already. Sunset was at about 14:30!! Paul found a perfect seat to rest on :), with good views!
This is a photo taken at night, from the island looking towards the mainland, with the bridge and the modern church.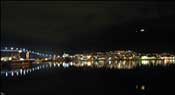 The next day we went to the airport again to pick up a rental car. It was a perfect day! Clear skies and lots of sunshine 🙂 Also lots of wind though, the cold was biting as soon as you got out of the car so our photo stops were quick! These two photos are taken on a small island near the airport.
There were many pretty frozen puddles, and we also found this (closed) museum with houses with grass roofs. There were big icicles hanging from the roofs!
We drove around a big island (Kvaløya) next to Tromsø, it was so pretty everywhere!
The photo on the right (below) is taken at Sommarøy, a tiny island. We had a nice break there at a small cafe.
There was a fishing company next to the cafe, very popular with the gulls 🙂 The other photo is taken on the way back, you can see how windy it was! Paul wasn't brave enough to get out of the car and freeze to the bone, so he shot photos out of the car window…
Later we drove over a mountain pass and were rewarded with this view coming down… The tiny village is called Grøtfjord, it looked so pretty from above with the street lights on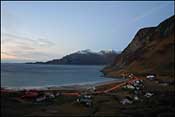 In the evening we tried to see northern lights (though the forecast wasn't good) but it got cloudy, so we took some pictures of the bridge instead.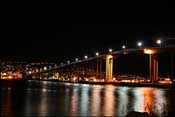 The next day, the weather wasn't as great, so we stayed closer to Tromsø and went for a walk to a lake on the mainland. It was a cold day again, but this time we were better dressed for it. The lake was starting to freeze, at the edges you could see the ice, it looked like glass!
Paul had too much energy and cracked a rock in half… 😉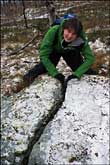 On our last day we decided to go to Lyngen. On the way. we stopped at this river bend to take some photos.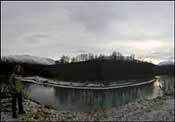 Getting to Lyngen involves getting a ferry, fun! The first photo is taken from where the ferry departs, pretty cloud! On Lyngen, we decided to walk along a path in a nature reserve, towards a lake. Pretty views!
There was a hut at the lake, where you can stay overnight. It was closed now, but it looked like a nice place to stay!
The next day (our departure day) we woke up to snow!!! Quite exciting, it was a pity we had to leave already. I really enjoyed Tromsø, hopefully we'll be back soon 🙂 We flew with Norwegian, and they announced direct flights from Stansted to Tromsø from December! That's great news, as it's a long journey when you have to stop in Oslo. We had to wait in Oslo for 5 hours… We made good use of it though, we met up with Mihailo, a good friend that I met in Fairbanks (Alaska) who lives in Oslo now. I hadn't seen him in 3 years!! So that was good fun 🙂
That's all for now. We're going to London for the weekend, and Paul has another job interview in Southampton on Monday morning. I'll come along as well, I haven't been to this part of England before and am quite curious to finally see it for myself!
Hanneke