Fluid Dynamics Summer School – 2 weeks in Cambridge
Fluid Dynamics Summer School – 2 weeks in Cambridge
Hello!
I have been back for a month now, but still wanted to post some pictures of the summer school in Cambridge. I was there for 2 weeks, with about 80 students of many different nationalities.
We were working hard! Breakfast at 8:00 every morning, first lecture at 9:00. We had four lectures per day, plus lab or computer practicals, lunch dinner, sport events, (poster) presentations… Some days were more than 12 hours! It was all about geophysical and environmental fluid dynamics, so lots of maths, quite difficult. The lecturers were really good though! Very enthusiastic and motivated people, all experts in their field, most of them were real characters! This made the lectures interesting and even fun. I enjoyed the labwork a lot as well, great fun to play with the experiments and a good way of understanding the theory.
This is the building where we spent all day, the Mathematical Center, where the Department of Applied Mathematics and Theoretical Physics was housed. Very nice building!
Here are some photos of the experiments we did: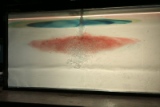 Plumes in stratified flow
Coastal currents – Rossby waves in a spinning tank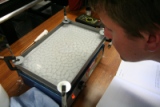 Thermal convection
On Friday night in the first week, we had the formal dinner in Queen's College. Very posh dining room! The dinner was very nice, though I didn't enjoy the food – the boneless chicken had LOTS of bones hehe. The dessert was great though, so that made me happy again 🙂 Here are some photos of that evening: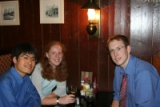 With Daniel (from Germany) and Ronan (from France), Justin (USA), and in the pub afterwards with Justin and Jeff (USA)
On Saturday we had lectures in the morning, but we had the afternoon off. Herbert, one of the lecturers, and a fellow of King's College, gave us a tour of Cambridge. Since he's a senior member of the College, he could take us to lots of places where you normally are not allowed, and we were even allowed to walk on the (holy!) grass!
His tour was great, he shared many great stories with us. He even attracted some new 'students', strangers tagging along with our tour, not knowing we all knew each other so it was obvious for us that they didn't belong on the tour, quite funny!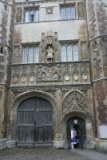 In the final week we went punting during lunch time. I have to admit I was lazy and didn't punt myself… And our punter fell in the water! (apparently this was only the second time in 16 years of the summer school!) I just relaxed and took lots of photos.
The last few days were tough. Everybody was getting very tired, at one point I just wanted to go home. Somehow I did find my motivation back though, even when we had to present our lab work and computer practicals on the last day – 4 hours of presentations!! It was a big relief when that was done. In the evening there was a closing reception, an
d one of the lecturers had organized a performance of the 'PV-song' (Potential Vorticity Song – very geeky!). He played violin, a lot of people were in his choir. I cannot sing, so I wasn't even allowed to join the choir, but with Gustafo we decided to waltz through the performance – like spinning vortexes. Good fun!! I have some photos of the closing reception somewhere, will try to find them and post them later – unfortunately I haven't found anyone who took a photo of us dancing!
Most people stayed until Saturday morning, but I decided to go home on Friday night. I was really glad to be back, though it had been a fun and useful two weeks!
Coming soon: photos of my trip to the Lakes District with Paul!