Still alive!
Still alive!
Hello 🙂
It's been more than a month since I last posted here, sorry about that! Just wanted to let you know I am still alive and doing fine 😉
I've been quite busy with a lot of things… playing badminton, salsa dancing, a conference, Celia and Marga came to visit, I've been to the Netherlands for 3 days (by plane! strange to be home so fast!).
This week there is the BA Festival of Science here in Norwich. Lots of interesting talks! Today I volunteered for a session called Soapbox Science. Basically talked to 16 year old high school students all morning, they had to ask me questions so they would get an idea of what scientists are like. It was interesting! Even though 16 year olds are not supposed to be enthusiastic about anything 😉 but still had some nice talks with them.
Finally I will post some pics…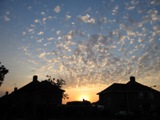 Some nice clouds a while ago!
And two photos of the thunderstorm, because Oscar keeps asking for them 😉 These are taken from the house, pretty cool thunderstorm! We don't get many of them here.
Two weeks ago we had a party at our house, for Patama's and Veronika's birthday. It was a good party! Lots of people, lots of food, lots of drinks… we still have wine and beer left 🙂 Here are some photos:
Preparations with Veronika & Nem (I kept telling Nem to put more alcohol in the punch, hehe)
Gerardo & Gabor; Johannes & Francis
me & Paul :); Francis, Aga, Nicole, Meike & Patama
Meike & Patama; Irina, Martha & Natalia
Nem, Nicole & Tanja eating tiramisu, Nem explaining her color coded scheme to everybody's amusement 🙂
Nem & Richard, & all the people who stayed till the end… I was upstairs nearly dying cause I got 40% liquor in the wrong pipe… stupid!!!
Allright, that's it! Next Sunday I am leaving to Cambridge for 2 weeks for a summer school in fluid dynamics, fun fun fun 😉
Take care!
Hanneke