Paul came back from sea last weekend, and after resting a bit, we decided to make the most of the forecasted sunny (and warm!) autumn weather. We drove to Tønsvik, and reached the cabin at Nonsbu after just over 2 hours, in cloudy but dry weather. It was Sunday night, and there was only one other guest in the cabin. The cabin has 2 parts, and plenty of space, so this wasn't a problem 🙂
On Monday morning we woke up to sunshine 🙂 We took our time to get ready, and chatted to the lady who stayed in the other part of the cabin. Around noon, we finally left to climb Nonstinden, a 1113 m high peak.
On the map, it was indicated that you could reach the top by two different routes, and that you could make it into a round-trip. I love round-trips 😉 so we decided to follow the path to Trollvasbu to begin with, then turn onto the steep ridge from the north, and come back on the gentler slope towards the south.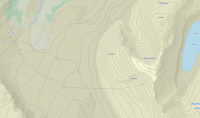 It took quite some time to reach the bottom of the ridge, mainly because we had to cross two rivers. I'm NOT a fan of river crossings, and I forgot to bring sandals so I had to go barefoot. Anyway, when we reached the ridge we soon found out just how rocky it was…
It took 4 hours to reach the top, and we were pretty exhausted by that time. Luckily, when you get to a height of 900 m, it flattens out a lot and there are only small rocks – so you can finally walk normally, without having to use your hands 😉
It was VERY windy on the top, so we didn't hang around for very long.
The views were fantastic in all directions, so we did take a lot of photos 🙂
To our relief, the way down was a lot gentler, AND the surface basically was moss with small rocks. So much easier! If I ever was to go up Nonstinden again, I wouldn't bother with the rocky ridge and just take the same (gentle) route up and down.
After reaching the bottom of the valley, we still had a long way to get to Nonsbu – and the same two rivers to cross. Luckily, one of them could be crossed by jumping from boulder to boulder, which saves a lot of hassle 🙂
Nonstinden turned into Ayers Rock in the last light of the day 🙂 We finally reached Nonsbu at 19:00, 7 hours (and about 14 km) after we started our hike.
We were pretty knackered by this point – I had also been struggling with a beginning cold which of course didn't improve by hiking up a mountain 😉 I was almost tempted to spend another night at Nonsbu, but after a cup of tea and some chocolate, we decided to hike back to Tønsvik while there was still some light left. After a brief uphill to begin with, the route was mostly downhill and it took us only one hour and 45 minutes to hike the 7.5 km back to the car. Phew, we made it – tired but happy we drove back home and were able to sleep in our own bed that night 🙂