Rotterdam (Not Just Anywhere)
Rotterdam (Not Just Anywhere)
Sountrack for reading (and understanding the title of) this blog – Rotterdam (Or Anywhere) by the Beautiful South.
It had been years since I'd been to Rotterdam, so many that I can't remember the last time I was there (other than changing trains on my way to Hook of Holland, but even that is 10 years ago). I tried to visit a few times, but it was almost like there was a curse: once I was stuck in a train on the way to Rotterdam for 5 hours, and then when we could finally move again the train went back to Amsterdam…
But curses are there to break, so when Chanita asked me if I wanted to spend a day in Rotterdam I said yes – and this time I reached my destination without any obstacles thrown in my way 😀 Chanita has lived in Rotterdam for more than 10 years and turned out to be the perfect tour guide: she really loves the city and she knows a lot about it!
Rotterdam is ever-changing. It's not like other Dutch cities – it was nearly completely destroyed in 1940 during the German invasion. It was rebuilt in a very modern style, and I think it has made it very popular for architects to build there, as new projects keep popping up. Like the Market Hall (opened in 2014), which was one of the first places we stopped.
I love this building! The market inside is REALLY nice, the building is so impressive and the painting on the inside is just fantastic. You can actually live in the building, though I bet it's not cheap 😉
After that we visited the library, an impressive building with lots of lights…
And then we went to the cube houses, some really modern houses shaped like cubes, which were built in the early eighties. I'd seen them before, and even visited one that's open to the public. They've since turned some of them into a youth hostel! They don't seem to be doing too well, there were lots of houses for sale (6 at the moment, click here if you're curious to peek inside those that are for sale)
We stopped for lunch and then continued to the Erasmus bridge. Near there, we stopped to look at the "fire line", these small lights are placed all around the city centre and marks the perimeter of the burnt city centre after the bombing. You can often clearly see the line as well, with modern buildings on one side, and old ones on the other. Below you can see an example of the older buildings that survived – modern on the inside though! Rotterdam seems to be able to mix old & new in a beautiful way.
We crossed the Erasmus Bridge, nicknamed 'the Swan'…
Our next stop was Hotel New York, based in the former headquarters of the Holland America Lines – lots of hopeful emigrants used to leave for North America from here. It is now dwarfed by two huge skyscrapers…
Panorama of the view in front of Hotel New York. Rotterdam is sometimes jokingly called "Manhattan on the Maas", since it's the only Dutch city that has some kind of skyline 😉

My next destination is Canada, so I just had to take this photo 🙂 and then it was time for apple pie & hot chocolate with ridiculous amounts of cream 😀
On the way back we passed the Maritime Museum with lots of cranes and a lighthouse in front of the museum.
A piece of artwork, and the 'Koopgoot' or 'Shopping Gutter' – a shopping street below street level that's quite famous in the Netherlands.
Walking back to where Chanita lives, Rotterdam showed that it still has that classical Dutch city look in some areas 🙂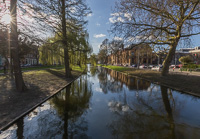 What a fun day! Chanita was a fantastic guide, and I hope to come back for 'part 2' one day – we didn't manage to see everything. And with all the museums Rotterdam has to offer I think it will take a long time to get bored of the city 🙂