After a busy week at work, including voluntarily showing up on my free Saturday to help dealing with hurricane Nina (in southern Norway), I was happy to sleep in today. Luckily I did wake up in time to see the beautiful twilight in the middle of the day, and I decided to visit one of my favourite places near Tromsø: Håkøya. It was cold, -9C (which is cold for Tromsø!), and in combination with the wind it felt even colder. My camera struggled with the cold, which is kind of strange as it didn't have any problems during -25 / -30 in Finland. Luckily I managed to take some photos even when none of the buttons were working :D
On my way home, I made one more stop, to take a photo of the lone cabin at Langnes.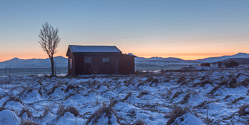 Not long until the sun comes back, oh how I am looking forward to those first rays of sunlight!