Late April/early May is the hardest time for me in Tromsø. While I keep hearing stories of 20+ degrees, green trees and flowers from people further south, up here winter won't let go yet. The Norwegians even have a word for this: værsyk (literally weather-sick) or sometimes also spelled as vårsyk (spring-sick) – often referring to an intense longing for Spring!
We've had bad weather for weeks. Showers, showers, showers, and not much sunshine. The temperatures have been mild though, so the snow is slowly melting. Yesterday I woke up to a nice surprise: sunshine and blue sky! I went for a walk to Telegrafbukta to enjoy the spring weather 🙂
Spring is slowly arriving, these flowers are popping up everywhere, and lots of birds have returned as well. Oh how I love birdsong, it's what I've come to miss most up here. We don't get much (and usually the sea gulls are overpowering everything with their screams), but during the last days I have heard lots of chirping and singing and it makes me happy 🙂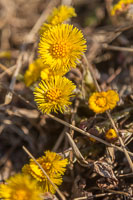 Yesterday's spring was short-lived though – today Tromsø woke up to fresh snow!! It was quite extreme, with some heavy snow showers, making everything white. Then the sun would come out and the snow would melt in record time – meltwater thundering through the drain pipes. Until the next shower… etc. It doesn't get totally dark anymore, but the bright lights of the football field in front of our house showed the snowfall very well – I had fun playing with exposure times to show the falling snow flakes.
I'm excited that the long term forecast shows SUNSHINE and relatively warm weather for next week – we might even get double digit temperatures 😀 (some people argue that this qualifies as "summer weather" in Tromsø…)