After celebrating New Year's Eve in Southampton, we decided to spend a couple of days in Cornwall – which I've been wanting to visit for a very long time. Unfortunately we were a bit unlucky, and I got ill as soon as we arrived to our hotel in Boscastle. Luckily the hotel was very nice, and we had a great view from our upstairs room – there are worse places to be ill. Boscastle is a very pretty place, here are some photos…
The Coastal Path passes right through the village, and you have a great view once you get a bit higher up the cliffs.
This is our hotel, and a nice door at the witchcraft museum – which unfortunately was closed for the season.
After spending a day in bed while Paul went on a walk by himself, I felt a lot better the next day, and we went on an easy trip by car. We stopped at Strangles Beach, and followed the path down the cliff to the big beach. The weather wasn't great: foggy and drizzly, but it improved while we were at the beach. We weren't alone there, there was also a lone surfer battling with the waves 🙂
I took my tripod and ND filters, and played around with long exposures of the rocks and the sea. I never get bored of that 🙂
After a couple of hours, we climbed back up the cliff and we drove to Crackington Haven for a nice warm tea in a cafe 🙂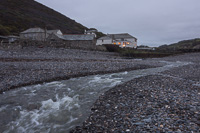 Stomach bugs are notoriously contagious, so it wasn't very surprising when Paul got ill that evening 🙁 We quickly decided to stay another night, as it wouldn't be wise to drive all the way back to London in that state. After a rough night, we took it very easy and went for a short stroll on the beach at Bude the next day. They have a swimming pool on the beach there (a sea pool), which was built in 1930. Seeing the size of the waves in Cornwall, I imagine it's very nice for kids to play in this pool instead 🙂
Today the only people in the sea were surfers, and these ambitious boys trying to stop the flow from the sea pool 😉 The rock formations at the beach are very interesting!
More views of the rocks on the beach…
After spending an hour in Bude, we drove to Widemouth Bay. We found a nice view point with great views of this huge beach.

Here's another panorama, which is even better viewed nearly full sized, click here (might take a while to load due to its size).

It was impressive to see the huge waves crashing here, no wonder this place is so popular with surfers. In the other direction, you could look north towards Bude and see the satellite ground station far away on a cliff.
We enjoyed our time in Cornwall, in spite of our poor health, and now I am determined to come back here and perhaps walk part of the Southwest Coast Path that follows the entire coast – must be a great experience!