USA Adventure Part 1: Denver to Moab
USA Adventure Part 1: Denver to Moab
We just got back from a fantastic three-week adventure in the USA 🙂 I've made a map of our trip below (please enlarge for better viewing). We drove from Denver to San Francisco, visiting lots of National Parks and other interesting places. We slept in hotels, apartments, cabins, our tent, a yurt and even in a lookout tower. We drove more than 4600 km (almost 2900 miles), on highways as well as dirt roads. We had lots of sunshine and warm (/hot!) weather, and only one thunderstorm. We saw mountains, deserts, canyons in all shapes and sizes (from the Grand Canyon to canyons barely wide enough to walk in), big cities and giant trees. Three weeks full of amazing experiences and landscapes 🙂 It's going to take me a while to go through all the photos – this trip will probably be covered in 15 blogs (all indicated with a blue dot on the map below).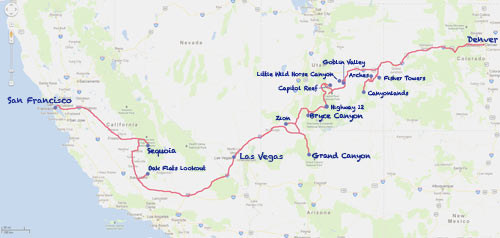 But to start from the beginning: we flew with Iceland Air, Tromsø->Oslo->Reykjavik->Denver. Quite fast and convenient. We spent one night in Denver, then drove through the Rocky Mountains to Moab, Utah – our first stop. The road through the Rocky Mountains climbs to 3000 meter, where autumn was in full swing and the aspen trees were a spectacular yellow colour. So beautiful!
We stopped for dinner in Glenwood Springs, where we also watched this train.
Around sunset, the Rocky Mountains slowly gave way to a desert landscape and we arrived in Utah 🙂
We rented a cabin not far from Moab, where we arrived late at night when darkness prevented us from seeing our surroundings. The stars were amazing, but we were both too tired to do any stargazing. We went to sleep, excited about the views we'd find the next morning.
Next stop: Arches National Park! 🙂