Ti på Topp 2012: Kjølen
Ti på Topp 2012: Kjølen
This year, Ti på Topp has started earlier than usual and includes 5 winter tops. I had a day off last Tuesday, and the weather was still really nice, so I decided to challenge myself and go up Kjølen (790 m). It's one of the most prominent mountains near Tromsø (it also has the flight radar on top), but I had never been there. I'd read that there was very little snow in places and decided to go up on snowshoes as you're more flexible that way. I started from Finnvikvatnet in glorious sunshine 🙂 I only took our new fisheye lens with me, as I wanted to get more familiar with it.
There were a couple of other people with the same idea, most of them on fjellski's, but also a woman who just went on foot. The ascent is quite gradual and the views are really nice. I saw quite a lot of reindeer on the way, but with the fisheye lens it's impossible to get a photo of them – you'll never get close enough 😀
There was hardly any wind that day, but Kjølen is notoriously windblown. Especially near the top, I found all kinds of wind-sculpted snow ridges (sastrugi). They are so delicate and pretty 🙂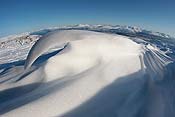 Another proof of how extreme the weather gets up there: all the poles had a huge slab of ice hanging from them. The second photo is taken on the top, there are 2 masts there and this is one of the lines securing them.
The dominating feature on the top is the flight radar. Nice to finally see it from up close! The other building is the "Varmebua" that DNT built here a couple of years ago. It's not meant to spend the night, it's just a small hut with a table and chairs and FLOOR HEATING. How luxury! On this sunny day, I didn't feel like sitting inside though. I had lunch on a bench outside the radar, enjoying the view and soaking up the sunshine. I had the top all to myself, all the others were already on the way down.
After an hour on the top, I started making my way down as well. I took some detours to look at interesting snow features…
The shadow of the setting sun caught me up on the way down, but the view of the last sunlight on the surrounding mountains was beautiful!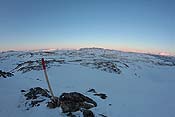 What a fun day! I really enjoyed myself. Below you can see my route and the height profile. It took me about 3 hours to reach the top (but this includes many photo and snack stops 🙂 ) and about 1.5 hour to come down.
Two days later, the nice weather came to an end. This weekend it's windy, snowy, at times even rainy. A great weekend for updating my blog 🙂