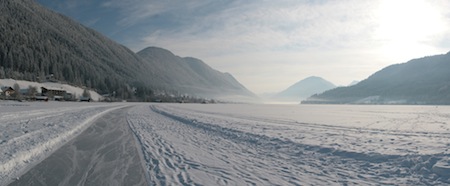 At the beginning of February I spent four days at a glacial lake in Austria called the Weißensee. The Weißensee is Europe's largest reliably frozen lake. But what makes it special is that every morning an "Eismeister" drives around the lake with a snow plough to clear the surface. There are plenty of frozen lakes in Northern Norway, but after the first snowfall skating is impossible. The Weißensee also has a nice sunny alpine climate and is quite a popular winter holiday destination. Although it is not very well known in England, people are well aware of The Weißensee in countries where skating is popular – such as the Netherlands. While eating breakfast at the Hotel Moser in Techendorf I counted the number of guests who were speaking Dutch: 18 out of 20!
Natural ice is not like the ice found on artificial ice rinks. My first day of skating on the Weißensee followed a night of freezing fog, and beautiful ice flowers had grown all over the surface. I didn't feel them through my skates, but they were amazing to look at. In many places deep cracks ran through the ice in all directions. These cracks are a bit of a menace if you cross them at too shallow an angle. It's easy for a skate to go down the crack, which will cause a naive skater to fall over. The Dutch spend their lives cycling along roads riddled with tram tracks and are probably used to this kind of hazard, but it caught me out a couple of times. In other places bubbles of gas were trapped in the ice, often in interesting patterns. I tried to take some photos, but the surface of the ice was quite scratched by the skating traffic so they are not that clear.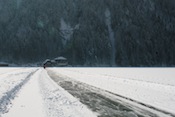 One the first day I skated 10 km from my Hotel in Techendorf down to the Eastern end of the lake. It was a windless day and it didn't take a lot of effort – only about as much as cycling. But skating uses muscles that I don't normally exercise, so when I arrived I was happy to take a rest at a lakeside hotel's cafe.
All sorts of people go to skate on the Weißensee. Some were super-fit and clad in skin-tight metallic lycra, others were more relaxed and wore jeans and woolly coats. The dominant demographic was 35-45 and had come in a group wearing matching, club-issued fleeces. Overall things were pretty informal though. I wanted to make to most of my four days and was on the ice by 9 am most days. As long as I kept skating away from Techendorf I wouldn't meet other people until about 10 am, when I started to meet people who had gone around the track in the opposite direction.
For three of the four days I spent at the Weißensee there was hardly a cloud in the sky and I skated around listening to music while enjoying the sun. With good music and nothing to worry about (except avoiding the cracks) skating was a hypnotic experience. By the end of day two I had clocked up more than 70 km according to my GPS, without really exerting any effort. Day three was overcast with snow showers and wind – and that changed everything. Skating into the wind is hard work and I'd become accustomed to looking at a sparkling frozen paradise. Grey snow didn't provide the same feelgood effect and I was bored by lunchtime. I went back to my hotel to read a book. I'd become spoiled.
The sun was shining through the curtains of my hotel room again the next day though and I gulped down my breakfast in order get out on the ice early. It had snowed a couple of centimeters over night and I was out before the Eismeister had plowed the track. The thin snow didn't affect my skates, but I was playing Russian roulette with the now invisible cracks. I took a break and snapped a few pictures while I waited for the track to be plowed.
Although the sun had restored beauty to the Weißensee, my skating muscles were pretty sore after three days of skating. After lunch I decided to switch to a different type of exercise and went for a walk in the mountains around the lake. After a few minutes I was on a forest path covered with untouched snow. Clearly most people don't venture far from the lake.
The snow in the forest was very thin so I could easily walk without skis. After a few hundred meters of climbing I had a good view over the Weißensee. A little further on I came across a hut at Techendorf Alm. It seems to belong to some kind of Austian hiking / mountaineering organization. I began to think I should have become a member and stayed there instead of in a hotel. It is quite a long way from the lake though.

Not a bad view. This would definitely be a nice place to stay. It even has running water and a solar panel to provide some electricity. I had a great time in the Weißensee and really enjoyed the Hotel Moser, but I left with a bit of a been-there-done-that feeling, so I don't think I'll be back next year. I enjoyed the concept of a skating holiday though and I'm keeping half an eye open for other nice places to go skating.