En deilig søndag
En deilig søndag
We're deep into "mørketid" now, the time when the sun doesn't come above the horizon. This year I find it harder than previous years, I am struggling to get up in the morning and feel chronically tired. This weekend the weather was beautiful, cold and calm winter weather. So I decided to go out and take photos, and make the most of the (twi)light we do get. I drove to Håkøya, and stopped a few times along the way.
These photos are taken on Tromsø island, where these skeletons of Tromsø Palms (giant hogweed) make for a nice foreground 🙂
At Håkøya the fjord was really calm, which made beautiful reflections. I love this house by the water with its own jetty 🙂
I took my macro lens and tried to get some photos of the ice crystals. It's not easy, but I managed to get a few – it's fascinating to see all the different shapes they have!
In the mean time it was getting darker. Very pretty sky!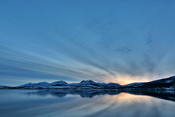 While driving back, I noticed the sky had turned a deep red and I stopped near the airport to take some photos from the beach. It was so beautiful… at some point I was standing ankle deep in the rising water on the beach, but I just didn't care 🙂
I got home at 14:15, and by then it was almost dark. We only have about 4 hours of usable daylight, and usually I spend these hours at work, in an office with no view. It was great to get out and enjoy the day properly!