Winter is here
Winter is here
Autumn has been unusually warm this year, with lots of rain. Last week temperatures finally dropped and we got almost 15 cm of snow. It only lasted a day though, then we were back to +8 degrees Celsius and rain. A few days later it got colder again, and we had a thin layer of snow followed by a weekend with beautiful crisp and cold weather. So nice! This afternoon we went for a walk around Prestvannet, the lake on top of Tromsø island. We were not alone, it seemed that half of Tromsø was hoping to take a last picture of the sun 😀 Officially, the sun stays below the horizon from the 27th of November, but it's already hiding behind the mountains from the 22th. Tomorrow is going to be cloudy, so it's very likely that this was the last glimpse of the sun for a while!
Paul bought some skates and is keen to use them, so he measured the ice thickness. Not quite enough yet… unless you're an otter 😉
And there it was, the sun! It was up for 3 hours today 🙂
You can tell that the children have been waiting for snow for a long time, they are all very keen to go skiing and sledding now, even if there is only just about enough snow for that. Building a snowman is also going to be a challenge, but here someone made 2 miniature ones… cute! 🙂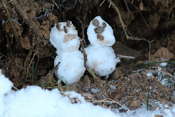 Unfortunately it looks like the pattern is repeating itself, temperatures are rising tomorrow and on Tuesday we're expecting +7 degrees and rain 🙁 I hope the snow comes back soon! It makes the dark time a lot lighter by reflecting the little light that we do get.