Three weeks ago we had one sunny day in the middle of a very rainy period. Of course we made the most of it, and we went on a trip to Oldervik (about an hour's drive from Tromsø). We were greeted by a great view towards the Lyngen Alps, with snow on the tops…

The coast at Oldervik has very special rock formations. I had seen many beautiful photos taken there (here and here for example), but we had never been there ourselves! High time for a visit 🙂 and it didn't disappoint! Here are some examples of the rock formations…
There are interesting patterns everywhere, it's a paradise for photographers 😀
Another interesting phenomenon at Oldervik are several potholes (jettegryte in Norwegian). They are formed when rocks are moved around by the sea and form a kind of hole. They are very big! Paul is standing in one of them below…
And this one (below left) was even bigger! We couldn't go in as there was too much water in it. The light had become quite difficult for photos, with a dark foreground and a very bright background, so I experimented with using different exposures to create one image (HDR).
Paul brought his waterproof camera and took some photos in the tidal pools – very nice!
The sky had  very pretty pastel colours when we came back to the car.
On the way back, the light was still very beautiful, and I had to ask Paul to stop a few times, I just had to take some pictures!
And our trip came to an end with this spectacular sunset…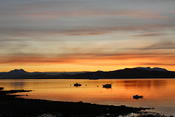 Once home we made pumpkin soup and we had friends over for dinner. A perfect Saturday!